April 25, 2006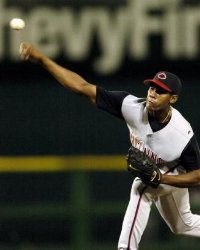 The Reds defeated the Nationals yesterday by a score of 4-2 to provide young Elizardo Ramirez, freshly called up from Triple A Louisville to fill in for the injured Eric Milton, with his first win.
Ramirez pitched seven plus innings, allowing two runs (earned) on six hits. Brian Shackelford allowed no hits through a third of an inning, but did hit a guy. Todd Coffey sprinted out to hold the Nats scoreless for two-thirds of an inning. David Weathers walked the first batter he faced in the bottom of the ninth, but also prevented any hits to close the game out and get the save.
A few of us commented on the game as it happened, so you can get the nitty gritty there.
The win brings the Reds' record to an astounding 13-7. Tonight Dave Williams takes the mound for the Reds against Billy Traber for the Nationals. Game starts at 7:05.