April 26, 2006
On May 9, 2006, I'm taking the day off work to drive all by myself to Cincinnati to attend Baseball 101: Luncheon for the Ladies. It sounds like an all-male revue, but it's probably going to be more like a quilting bee.
Last year's events featured: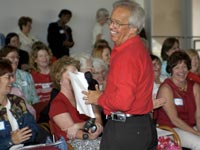 Jason and Heather LaRue
Ryan and Erin Wagner
Aaron and Jen Harang
Dave and Andrea Miley
Tom and Susan Hume
Rich and Raquel Aurilia
Todd and Nikki Coffey
Jason and Joy Standridge
Could be pretty awesome. Could be pretty lame. But, seeing as I apparently have no place in the dugout, I've got to take advantage of any women-only opportunities that exist.
If anyone out there in reader-land is planning to go, drop me a line so I can be on the lookout for you.