February 3, 2010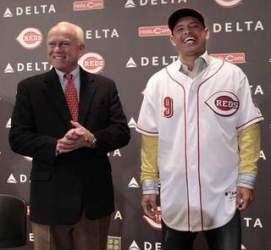 Last week, the Reds signed Orlando Cabrera to be their shortstop for the 2010 season. The Reds officially announced it on Monday, with a press conference and everything.
My initial thoughts on this signing are, to be nice, less than positive. It feels too much like the Willy Taveras signing from last off season. Cabrera is a light-hitting shortstop who was once known for his defense. However, he has slipped in recent years, and will be 35 in 2010. That's not a good recipe for success.
But really, my primary concern has to be how "manager" Dusty Baker will use him. The man tents his pants for veterans, and Cabrera qualifies. Plus, since he's the shortstop, he will bat second in the lineup. That's where the shortstop bats. Clearly. Even when he gets out 69% of the time. It's the only logical conclusion.
I have had a little time to think about the deal and am not as negative as I was originally. Unlike Taveras, there was a need for a shortstop. As much as I wanted to see what Paul Janish could do, he was the only option the Reds had. That's dangerous when embarking on a 162 game season.
I do wish that Walt Jocketty had been better able to down-play Baker's major weaknesses. But when you have as many as Baker, the only real way to get rid of them is to rid yourself of the entire manager. Hopefully, Cabrera will bounce back and prove my misgivings unwarranted.