May 6, 2014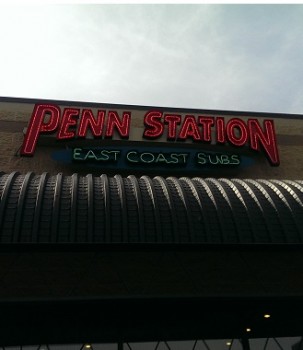 The other day I got an email from a lady at Penn Station Subs letting me know about a deal for Reds fans:
During the month of May, Penn Station is partnering with the Reds to bring customers the Big Reds Meal Deal. When purchasing an Cheesesteak sub and lemonade at regular price, customers will receive a voucher for discounted Reds tickets and an entry form an exclusive Reds VIP game experience.
Traditionally, I've been more of a Subway gal, seeing as I have lifelong goals of 1) eating fresh and 2) find myself way too small for my pants. But I've been getting progressively disillusioned with Subway ever since I tried their highly advertised avocado and found it to be an additional $1 in price for an additional zero amount of flavor.
When they rolled out this whole "flatizza" crap, they totally lost me.
The Penn Station lady had offered me a couple of Reds tickets to write about the sandwich deal, so I couldn't resit taking a flier on Penn Station being my new sub shop of choice.
I noticed the artichoke heart sub and just had to have it, so I ordered that and left the ordering of the proper Big Reds Meal Deal to my hubby on the condition he'd let me have a bite. It's just a side note, but for what it's worth, the artichoke sub is spectacular.
But before we get back on topic, a quick cheesesteak story: I was once at a conference in Philadelphia where the mayor made a brief appearance. During his prepared remarks, he told us that a "real" Philly cheesesteak doesn't have "real cheese," but rather Cheez Whiz. It was one of those self-deprecating stories politicians tell for a cheap laugh. Unfortunately for him, there was a sizable delegation from Kraft foods at the conference, and they were quick to indignantly informed him that Cheez Whiz did, in fact, include real cheese.
I just did a search on Cheez Whiz now, though, and it looks like they did away with the real cheese in 2011. I guess that's the inexorable march of progress for you.
No matter; the Penn Station Philly cheesesteak doesn't use Cheez Whiz anyway. I think it was provolone. And that's all the better for the taste, in my opinion. I'm not a huge Philly cheesesteak fan in general, but I enjoyed this one. The lemonade is really good too, and that's coming from someone who considers herself to be somewhat of a lemonade snob.
If you're in the greater Cincinnati area and want $5-12 off your Reds tickets, it's worth a trip to your local Penn Station. A nice sandwich and great cup of lemonade come as part of the deal.