January 17, 2008
Tragedy Comic by Screaming Mimes
©2007 Screaming Mimes, All Rights Reserved. 873 Four Mile Road Cincinnati Ohio 45230
Music & Lyrics by David O. Storm ©2007 Bozelmax Music (ASCAP)
http://www.screamingmimes.com/tragedycomic.htm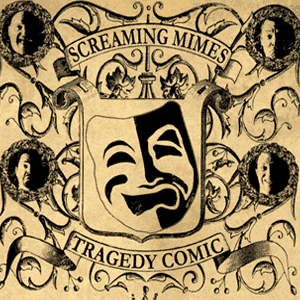 Just two short years after the release of their debut album Live My Life, the Screaming Mimes put forth their sophomore offering in Tragedy Comic. This lyrically driven album is smart and frisky and fun without being too childish, like using your old Legos to build something badass for your home office, like a pen holder or a functioning stapler. Production values are way up (and they weren't bad to begin with) making this a very polished, professional piece of work.
Regular Screaming Mimes concert goers will be familiar with many of the tracks on this album. Twister is an upbeat number discussing many of the various twists that you can encounter in your life. It's singable and totally fun to dance to when no one is looking. See if you can find the place in the song when I sing, over the lyrics, "Order me a gin and tonic…twist!"
| # | Title |
| --- | --- |
| 1 | Twister |
| 2 | Sleeping With the Emily |
| 3 | Superdave |
| 4 | Only Love |
| 5 | More Than Ever |
| 6 | She's Waiting |
| 7 | Everything To Me |
| 8 | Suddenly |
| 9 | SHE |
| 10 | Happening |
| 11 | Pretty Soon Now |
A variety of influences make Tragedy Comic a musically interesting work. The Crack Technical Staff and I make a hobby of pointing out parts that remind us of other groups we like: a little Beatles here, a touch of Gin Blossoms over there. And what's this? Perhaps a touch of Madness? The overall sound has a distinctive Barenaked Ladies flavor, with less of a "I hate everything about my life, including you, but at least I sound happy about it" tint. If anything, the music is a little on the lovey-dovey side, but with just a little sardonic edge.
Superdave, the clear star track, is supposed to be available in video form soon, which we will definitely feature here on Red Hot Mama to the furthest extent of the law. In the meantime, you could probably get a sneak peek at the Mimes' CD release party tomorrow, January 18 at 8 p.m. If you're in the greater Cincinnati area, come by the Southgate House across from Newport On The Levee.
Otherwise, you can get your copy from CD Baby.com.