January 21, 2008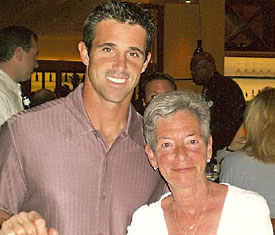 Welcome to round 1 of the Jason Romano Commemorative NLC's hottest blogger contest. 15 of the best-looking players on NLC (plus one fella in limbo) face off in a single-elimination tournament.
Today's match-up pits Sean Burnett of the Pittsburgh Pirates against Brad Ausmus of the Houston Astros. This is an interesting match-up for many reasons. First is that neither player has a tie to the Reds, which has been the kiss of death in the tournament so far. The first contest was won by long-time Red, Jason LaRue, the second by Rick Ankiel (who is an honorary Red due to his strong outfield but poor pitching performance), the third by Brandon Phillips, and Joey Votto has pulled ahead into a comfortable lead in the fourth pairing.
Also ought to be interesting because, though Ausmus is among the older players in our bracket, it was a Google search of Burnett that made me think I'd accidentally written down the wrong name when choosing competitors. Just keep in mind that I was looking at the slightly askew cap and half-smile of his MLB profile photo, not these highlights, when I made the choice.

Sean Burnett
ht: 6-1 wt: 195 dob: 09/17/1982
On his bio page on Pirates.com, this bit of minutia is the first thing you see.
Is a 2000 graduate of Wellington (FL) High School, the same school that produced Bobby Bradley, the Pirates' 1st-round selection in 1999 (marking the first time in draft history that a major league club has used consecutive first-round selections on players from the same high school)
Maybe a good showing in the RHM hottest baller contest will help him define himself in terms of something other than his high school.
Brad Ausmus
ht: 5-11 wt: 190 dob: 04/14/1969
Ausmus is going to turn 39 a couple of weeks into the season, so it makes sense that he's going to be playing the role of the backup (even on the Astros). Honestly, I'm pretty new to this blogging-about-anyone-except-the-Reds thing, so I can't say much. Except that he photographs well.
[poll=13]