January 5, 2008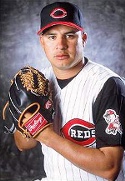 The Pittsburgh Pirates have signed 37 year-old journeyman pitcher Elmer Dessens to a minor-league contract.
It's a cheap, low-risk move for the Pirates, who will undoubtedly see if the right-hander has any gas left to help their bullpen. At the same time, though, it does make you question the team's leadership. I know they have to field a team in 2008, but they're not going to compete. Their energy would be better spent on building a young team ready to compete in 2 to 3 years. Dessens won't be a part of that.
As an aside, how depressing must it be for Dessens to sign a minor league contract with the Pirates? A sure sign your career is nearing completion.