December 28, 2005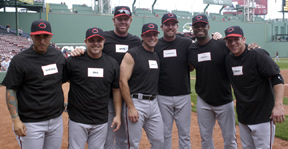 According to Rotoworld, via GP at The Cincinnati Reds Report! (who received an invitation from me to drop a link to himself in my comments, and then proceeded to do so on every other Reds blog except mine--but I'm not bitter), Javier Valentín is tearing it up in the Puerto Rican league.
I'm not surprised. Well, yes I am. But mostly because I didn't realize Javy was playing anywhere this offseason. May he keep it up.
Also, according to our good friend Pat (who did visit RHM when invited. Hrumph!) at Where Have You Gone Andy Van Slyke? the Pirates have signed Joe Randa to a 1-year, $4 million contract. It's nice to know that Casey will have a friend there, at least until the trade deadline.