October 28, 2007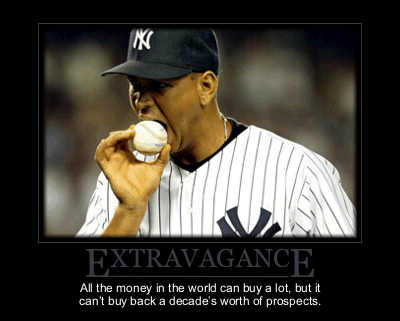 Just heard on the World Series broadcast that Alex Rodriguez has opted out of his contract with the Yankees. The Crack Technical Staff points out that NY is less likely to re-sign him in his free-agent form since the Rangers are off the hook for the portion of his salary that they were paying before.
Even so, the number of teams that could step up to the plate and take a swing at Scott Boras's pitch is pretty small, and, if not the Yankees, then who? Certainly there are some teams in the Central who wouldn't mind adding A-Rod to the roster, it's even mentioned in the Cubs.com mailbag this week.
I wonder how the guy will perform when he's suddenly free from the pressure of the New York media, the enthusiasm of the fans, the excessive largeness of the pizza slices, and the ready willingness of the call girls to accompany you to strip clubs. A stint in, say, Milwaukee, could be a pretty big shock to his system. On the other hand, it might be just what a guy like A-Rod needs: a nice quiet small metropolis to buy with the money he's going to get.