July 11, 2010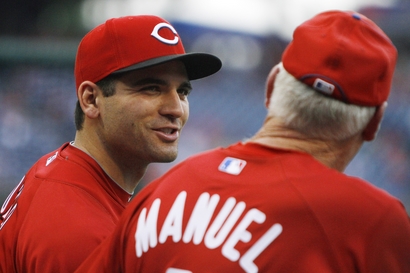 The irony is that just as my summer classes wrapped up, and I can watch baseball without the guilt of not reading my homework, the All-Star Break comes around, preceded briefly by four of the crappiest games the Reds have played all season.
I mean, sure, I have one whole late-game Joey Votto AB to look forward to, but this isn't exactly a standard week of baseball. That's probably a good thing, given those four crappy games I just mentioned. Clearly I'm not there, and I can't say for sure that the team could use a few days off, but I know that, personally, I pretty much always could use a few days off.
In other news, MLB sent me an email with a "reward" for voting in the Last Man competition. Just think: 10 whole days of a free trial of MLB.tv! How did I ever get so lucky?
MLB almost tricked me into entering the Win a Free All Star Batting Practice Jersey contest, by sending the message through Reds.com. "Giving away 30 jerseys?" I thought, "among a hundred thousand people who will enter? I like those odds!" When I read closer and realized it was one jersey per team, so 30 jerseys among 20 million fans, suddenly I found myself not so willing to hand over access to my browser activity after all.
Home Run Derby is tomorrow, and it's not exactly a magnet for the heavy hitters this year. I like how they're spinning it on MLB.com
The cast in Monday's State Farm Home Run Derby may not be as star-studded as in years past, but the intrigue has hardly taken a hit.
It's "hardly" taken a hit. Just barely. Just entirely. Personally, I may take a nap. I can't speak for the Reds, but I'm tired.