July 18, 2010
So the Cincinnati Reds lost today and are no longer in first place because the cursed St. Louis Cardinals came back from behind and won. Well, let's look back to happier times, all the way back to Saturday when the Reds were on the top of the world.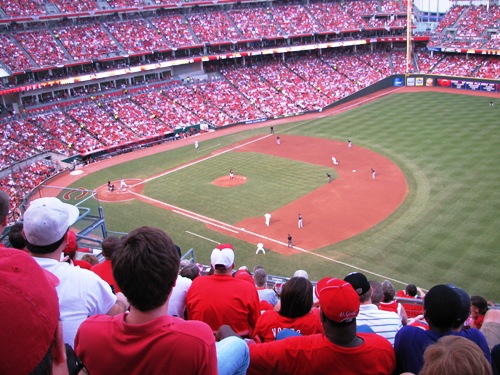 We decided to go to the game in an impromptu fashion, after our previous plans for the day were cancelled when the event we wanted to attend became a sell-out. So of course, we heard on the drive to Cincinnati that the game was a sell-out. We continued, assuming we'd grab standing-room only "seats". Of course, thos sold out, too, which left us to fend for ourselves in the shady scalped ticket market. The transaction was a success.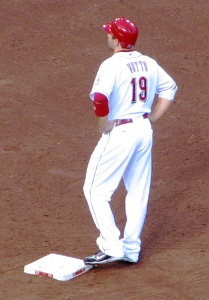 Joey Votto seems to be a much less patient hitter since the All Star Break, but he did manage to get on base. Here he is on second.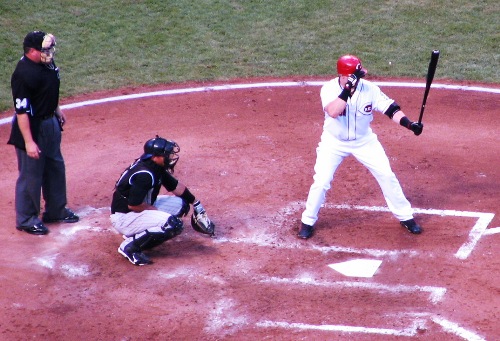 In case you hadn't noticed, Jonny Gomes fidgets with his helmet. A lot.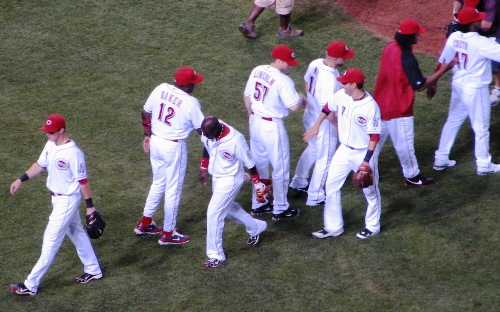 After a great game all around, the Reds high-five each other in the infield. Here, Brandon Phillips plays the "Up high, Down low" game with manager Dusty Baker.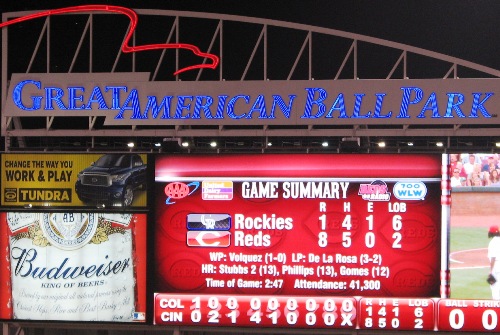 The scoreboard, showing the success of Edinson Volquez's first outing after a year away from the game. If he can pitch 7 innings of ball like he did last night for the rest of the year, the Reds will be in good shape.
Of course, after this game, the Reds were hoping for a sweep which didn't happen despite another great pitching performance from Travis Wood. Maybe next time the team will score any runs for him. Still, it is weird to be disappointed that the Reds didn't sweep the series. They did take 2 of 3, after all. Slightly unhappy with series wins, sell-out baseball games. I tell you what, I'm not used to this winning stuff. It certainly makes spur-of-the-moment trips to the ballpark trickier.