January 22, 2014
6 players eligible for the arbitration process
: Homer Bailey, Aroldis Chapman, Chris Heisey, Mike Leake, Sam LeCure, and Alfredo Simon. Currently, the club has reached agreements with everyone except Bailey and Chapman.
LeCure and Chapman are both in their first year of the process. LeCure, though, signed a two-year deal with the club that will not have him dealing with arbitration again until his final team-controlled year. His deal is worth $3.05 million.
Chapman and the club have exchanged salary figures, with the Reds offering $4.6 million and Chapman requesting $5.4 million. With as close as those numbers are, it's likely the two sides will reach at least a one-year deal before the arbitration hearing arrives.
Heisey, Leake, and Simon were all in their second year of arbitration eligibility, and all have signed one-year deals. Heisey will be earning $1.76 million, Leake will be earning $5.925 million, and Simon will be earning $1.5 million.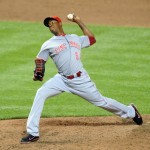 That leaves Bailey, in his final year with the Reds before he's eligible for free agency, is asking for a lot more than the Reds are offering: $11.6 million to $8.7 million. At the very least, I'm confident the Reds will sign Bailey to a one-year deal. General manager Walt Jocketty is working on getting a longer-term contract, but Bailey seems quite interested in testing the free agent market. He is a guy who's thrown two no-hitters already and has improved each of his years in the big leagues. I can't blame him for getting as much money as he can get.
There have been rumblings of trading Bailey this year if the team can't sign him to a long-term deal, but I think that's unlikely, at least at the beginning of the season. Of course, once it becomes obvious to Jocketty that he's assembled another third-place team, maybe he'll see what kind of prospects he can get for Bailey.
Going into this off-season, the Cincinnati Reds had