February 20, 2014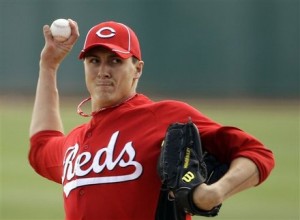 It went down to the wire, but the Cincinnati Reds avoided arbitration with their final player, homegrown starting pitcher Homer Bailey.
Bailey has agreed to a six-year, $105 million deal. Since this season was Bailey's final one before becoming a free agent, this is effectively a five year extension. He will be 34 once the contract is up, and assuming he spends the entire time with the Reds, will have spent 13 years with one club. That sounds fitting for the first starting pitcher the team drafted and developed since Tom Browning.
As for the deal's details, ABC News has that.
Bailey gets salaries of $9 million this year, $10 million in 2015, $18 million in 2016, $19 million in 2017, $21 million in 2018 and $23 million in 2019. In an unusual twist, much of the annual salary will be deferred until the November after each season.

Bailey will be paid in-season amounts of $3 million this year, $4 million next year, $11 million in 2016, $12 million in 2017, $14 million in 2018 and $15 million in 2019.

If he is traded, his new team would have to pay all of the salary amounts during the season. Also, the $5 million buyout would be paid when either side decides not to exercise the option rather than having it deferred until November 2020.
The November deferment is something I've never heard of a team doing before. Whatever makes it easiest for the team.
Overall, this seems like a good, fair-market deal. Bailey has improved every year in the majors, and he's entering the prime years of his athletic career. With two no-hitters already behind him, I'm optimistic he can accomplish more. Plus, it's nice to see the Reds actually do something, even if it is sign a player they already had.