January 24, 2011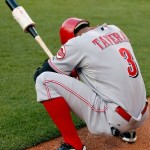 Some former Cincinnati Reds made the transaction news today, one of them more thankfully former than the rest.
First off, the replaceable Willy Taveras should give his agent a raise. Taveras signed with the Colorado Rockies today. Sure it's only for a minor league deal, but Taveras has not been productive in the majors for a long time, despite his young age of 29. This marks Taveras' fifth organization since being a blocker on the Reds in 2009, including the Philadelphia Phillies, Texas Rangers, Atlanta Braves, and the Washington Nationals.
Next up, Micah Owings, a player the Reds never figured out exactly what to do with, returned to the Arizona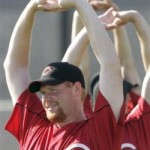 Diamondbacks. Owings signed a minor league deal with the Diamondbacks and received an invite to Spring Training. Arizona plans to use him as a pitcher and as a power bat off the bench. I still can't help but feel that Owings would be better off focusing on hitting. He has so much power.
Lastly, the one and only Todd Coffey sprinted from somewhere to the nation's capital to sign with the Washington Nationals. Coffey's deal with the Nationals is the only one of the bunch that's a major league deal. Coffey will apparently get a chance to compete for the closer's role. I wish the big guy the best of luck. As goofy as his sprint was, seeing it always brought a smile to my face.