Daily Archives: February 25, 2006
February 25, 2006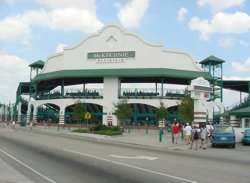 One of the concerns of the Reds brass in Florida right now is negotiating to improve the spring training facilities and keep them in Sarasota. According to Outside the Box in the Cincinnati Post this week, the Reds are in early discussions with the Pittsburgh Pirates about the possibility of opening a joint spring training facility in Sarasota.
The Reds contract on Ed Smith Stadium, the current spring training facility, expires in 2008. Dual-team spring training complexes have met with success in Arizona and the Reds say a single building might be more likely to receive government backing and funding than separate buildings for each team, or even renovations for each team.
According to our buddy Joliet Jake at Bucco Blog, the Pirates' spring training stadium is the only spring training stadium without lights, and the fact that they can't have night games has been a point of contention between the team and the city of Bradenton. He suspects the Pirates are only talking to the Reds to pressure the city into installing the lights or risk losing the team to Sarasota. The Pirates' contract on their spring training stadium, McKechnie Field, expires in 2011.
An article in the Bradenton Herald says the local businesses enjoy an $11 million boost every year from spring training, so certainly the city has an interest in keeping the team. This would, indeed, be a powerful bluff for the Pirates to make. The Reds, on the other hand, don't have anything apparent to gain from lying about wanting a dual stadium, and it wouldn't be Reds' CEO Bob Castellini's style to play games anyway.
In any event, even if the city builds the joint stadium for just the Reds to use as soon as 2008, nothing's going to happen immediately. Pirates fans still better stock up on the sunblock.
February 25, 2006
Poor Big Red Mechanic. He's having trouble with his MLBlog. At first, he thought it was a snafu with the bill, but that turned out not to be the case at all:
Well, incredibly mlblogs.com has no explanation as to why I cannot access my account. It was not a billing issue afterall; my payment went thru on the 17th. They are asking if I have cookies enabled in my browser. Now, as a veteran cgi/perl web programmer, I think I am smart enough to have thought of that already. I have no problem logging into a million other online services I use… so I don't know what to do. If it is site maintenance you think they'd have a better way of informing me than simply taking me to the new user sign up page. It's ridiculous.
Heh. Cookies. Welcome to every customer service phone call I've ever had.
Anyway, I'm posting part 5 of the round table until our Big Red Mechanic is on his feet again. I'm not posting the section that's supposed to appear on Red Reporter, though. Mr. Big Time Reds Blogger is just going to have to do that himself. [UPDATE: Mr. Big Time Reds Blogger has posted his section, and demands that I only refer to him as "Mr. Big Time Reds Bloggers, sir. So bossy.]
JDArney: Barry Bonds is retiring after this season
JDArney: Just saw that
Shawn: That's what I heard….don't know if I believe it.
Doc Scott: 12 beers isn't bad for Vegas
BRM: lol
Shawn: Bonds retiring? Guess it's the knees
Jacci: Hahaha
Doc Scott: he'll keep going if he has a chance to break Aaron's record
BRM: Doesn't Griff have a shot at #10 on the list this year?
RHM: That's nothing. Sosa's retiring BEFORE this season.
BRM: I think that is Reggie Jackson
Shawn: Griffey is 12th (tied) with 536. Jackson is 10th with 563
Shawn: According to baseball-reference.com
JDArney: He should get there if he can play 110+ games
*******************Topic 4: Dunn's Contract************************
RHM: OK, shall we hit Dunn's contract before we lose anyone else?
Shawn: I like it… 5 years would be better, but three is much better than one.
JDArney: I liked the contract
RHM: I don't know; I'm not super-psyched about it
Shawn: Why not, RHM?
JDArney: I'm wary of deals that are 4+years, so I'm not terribly upset that its a short one
Doc Scott: well, at least it's cost-reasonable
RHM: It doesn't seem like much special, I reckon.
Doc Scott: even if we'll be doing this again at what will seem like tomorrow
BRM: like I said, it was not a sign and trade… he will be in a reds uniform for 3 years… and that is our window of opportunity… they can always renegotiate along the way, but it kills the rumors except for the biased Dunn haters who can't read the writing on the wall
Shawn: It's less than they would have paid by not signing him long-term….much
less
Doc Scott: Dunn's going to get top dollar after 2008- he'll be 28, right? 29?
Doc Scott: prime years
Shawn: Not for Dunn….unless he really works at staying in shape, he'll actually be "an old 30"
BRM: Dunn is fine. He's a big boy.
RHM: I'm no Dunn hater, but man, now seems like the time to trade him.
Shawn: And he'll get bigger
Shawn: Esepecially after he turns 30
RHM: And by now, I mean, this year.
JDArney: I'm fine with them dealing Dunn if they get a huge return
RHM: Exactly
JDArney: The offense can survive the hit
Shawn: Yeah, you have to get a real good pitcher to trade Dunn
Doc Scott: a very good one
RHM: We talk about how Kearns and Pena have low trade value because they aren't meeting their potential
RHM: But we have one guy who is: let's get someone great for him
BRM: We were only briefly entertaining playoff hopes last year, and it was a direct result of Dunn winning player of the month honors and carrying the offense. He is pretty much our MVP.
Shawn: I mean Dontrelle Willis, Mark Buehrle good
RHM: Like you say, the offense can take it
RHM: Oh, whatever
RHM: You're saying the Reds scored the most runs in the league last year because of Dunn?
JDArney: I don't think I entertained playoff hopes for a second last year
JDArney: I guess I envy you
Read the rest!
Part 1 on The Cutting Edge
Part 2 here.
Part 3 on We Heart the Reds
Part 4 on Reds (and Blues)
Part 5 you just read. It would have appeared at the Big Red Mechanic, so go give him some love, too.
Part 6 on Shawn's Cincinnati Reds Blog