March 3, 2006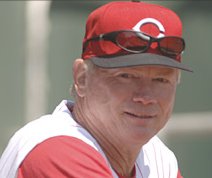 Reds pitching coach Vern Ruhle was diagnosed with cancer during his annual physical this season. He is not sharing the exact variety of the disease he has, but is planning to remain in camp as much as possible while he undergoes treatment.
Ruhle took over as pitching coach when Don Gullet was relieved of his duties along with manager Dave Miley in June 2005. The pitching staff enjoyed a marked improvement with Ruhle at the helm.
The diagnosis was made before symptoms began to appear. We here at Red Hot Mama are glad the disease was discovered so early and wish Mr. Ruhle the very best. I'm looking forward to hearing that the cancer is in remission and Ruhle can go back to focusing his attention on this woeful pitching staff.