March 22, 2006
The Reds fell to the Indians on Tuesday by a score of 2-5 on Bingo Day at Ed Smith Stadium.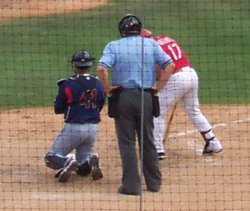 Brandon Claussen started and allowed just one run through five innings. Unfortunately, Jake Robbins came in to give up four runs in the sixth and get the loss.
Edwin Encarnación found a field other than left when he hit a center field double in the 2nd inning. He later scored on an Austin Kearns sacrifice double-play.
Chris Denorfia stole second base in the sixth inning and later scored to give the Reds their other run.
Chris Hammond pitched a scoreless top of the seventh, and it really looked like there was hope for the Reds when Danny Graves came in in the bottom of the seventh. But alas, the longhaired wonder proved to be too much for Dewayne Wise, Frank Menechino, and Jacob Cruz, who went down in order on ground balls. Proof positive that we were wrong to say goodbye to Graves.
Rick White pitched a scoreless eighth inning and Kent Mercker pitched a scoreless ninth, but it was too late for the Reds, who suffered the first loss of the spring that I witnessed in person. And let me tell you what: it stinks.
The loss brings the Reds' record to 11-10. The Reds visit the Twins in Fort Myers tonight at 7:05 p.m., and I take the day off. This vacation has been as much work as work is.