March 29, 2006
Tom Browning's Tales from the Reds Dugout by Tom Browning with Dann Stupp
Sports Publishing LLC
ISBN 1-59670-046-7
US $19.95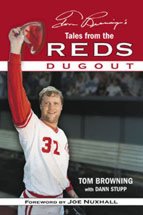 Tales from the Dugout is a series of very short vignettes from the life of Tom Browning. And I mean really short. I think that one of them is only a paragraph long. There isn't a single two-page spread in the whole thing that doesn't include a heading to denote a new section, and I think that one of the most challenging parts of putting together this tome must have been coming up with the text for all the subheads. Which is really a shame, because I wasn't very far into the book at all before I was skipping the subheads entirely. The chunky format is perfect for the bathroom but a little too choppy for the armchair.
As a person who's followed the team and the sport for only about six years, I had a little trouble keeping all of the names straight, especially when Browning started referring to players and coaches by their nicknames. I imagine most people likely to pick up this book wouldn't have any trouble with that part. Nevertheless, if you plan to give this book to the newly initiated, making a handy quick reference card with the names, nicknames, bio information, historical significance, and perhaps a full-color sketch of the characters would most surely be appreciated by the recipient.
The book starts off slowly. It has a lot of summary about Browning's childhood in Wyoming that's short on dialog and descriptive language. Tom Browning, a baseball player, created this book in collaboration with Dann Stupp, a creative services manager for the Reds who, in his bio, lists his SABR membership before his journalism degree. Reading through the first few chapters, I couldn't help but think that despite the fact that this book had two authors, it really could have used a writer.
But starting around chapter four, The Brink of the Bigs, the book started to change my mind. The only perfect game in Reds' history, the 1990 wire-to-wire season, the fall of Pete Rose--these are such compelling stories that it doesn't really matter how they're told. But in this case the telling makes the stories shine. Browning's voice is warm and personal. There's not a hint of the jaded been there, done that that you might expect; Browning's inner child is alive and well and still a Reds' fan.
Browning has been hanging with the team this spring. He's one of the veterans that owner Bob Castellini has brought in as part of the Power of Tradition drum he's beating. And some parts of the book come off like Browning's direct advice to the 2006 team. Consider his assessment of the 1990 team from page 136:
Other teams may have scored more runs, but we seemed to score them when they mattered most….And I can't think of a team deeper or more balanced than our squad.
As in so many cases, just learning about the characters involved in a story makes the story more relevant. Finding out how much Browning respected Lou Piniella made me more intrigued by the possibility of bringing him back as manager. Learning about Pete Rose made me more sympathetic to his plight and what he did to baseball. Reading first case accounts of interactions with Marge Schott made me generally more horrified. And, apparently, reading about Bip Roberts (recipient of the B.I.P Body In Pain award for his regular complaints about minor ailments) has made me feel more melodramatic.
But my stoic side liked the book too. It's a quick, entertaining read, and having it on your shelf (or back of the commode) will demonstrate to all your houseguests the depth of your Reds fandom. Add in those full-color sketches, and no one in the tri-state area will doubt your Power of Tradition.
The good people at Sports Publishing LLC would like you to know that Tales is available for $19.95 from:
At major chain and independent bookstores (Borders, Barnes&Nobel, Waldenbooks, etc.)
By calling Sports Publishing toll-free 24-hours-a-day at 1-877-424-BOOK in the continental US (217-363-2072 outside the continental US)
Online at www.SportsPublishingLLC.com
P.S. When the movie version comes out, allow me to recommend David Denman for the leading role.