March 8, 2006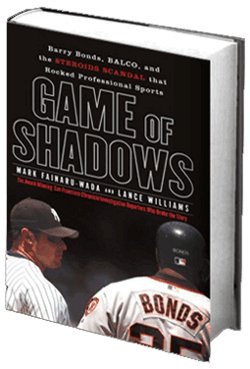 On March 27, the book Game of Shadows, written by San Francisco Chronicle reporters Mark Fainaru-Wada and Lance Williams, will hit the shelves everywhere. The book details the extensive steroid use of slugging superstar Barry Bonds since 1998. An excerpt of the book is available on SI.com and will appear in the March 13 issue of Sports Illustrated to hit shelves tomorrow.
This article from Sports Illustrated about the book already gets into plenty of interesting factoids. Did you know, for example, that Bonds' took a women's fertility medication in an effort to spur his natural hormone production? I don't know that anyone's really surprised to be presented with evidence of Bonds' steroid use, but to have it all laid out in graphic detail is a tad overwhelming. So go read it now!
My thoughts on the matter fall into three categories:
How will major league baseball deal with this revelation? Bonds is a big fat cheater, after all.
How will his reality show deal with this revelation? Could be ratings gold, if they can roll with it.
How will Barry Bonds deal with this revelation? Here's a quote from the SI article:
When informed of the book this morning and asked if he was concerned about it, Bonds told a group of reporters gathered around his locker, "Nope. I won't even look at it [the book]. For what? I won't even look at it. There's no need to." He then walked away.
Apparently he already knows how it ends.