March 9, 2006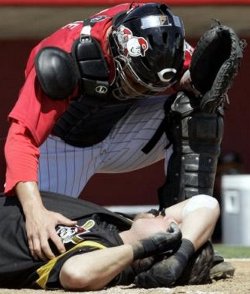 Apparently former Reds are a little hotter than current Reds as the Pirates shut out the home half of the Reds split squad 5-0 yesterday in Sarasota.
Michael Gosling got the start and held the Pirates scoreless through three innings of work. Gosling gave up two hits, a walk, and a big ol' beanball to the side of Sean Casey's head. Gosling was upset about hitting the Mayor, but I'm sure Casey had it coming.
Homer Bailey, Josh Hall, Chris Hammond, Rich White, David Weathers, and Jimmy Journell also pitched an inning apiece. Hall gave up three runs and got the loss. Weathers surrendered the other two.
Jacob Cruz did his best to get the hits rolling with a double in the fourth inning. According to the game wrap on the official Reds site, Cruz's hit broke a streak of nine Reds' outs in a row. You might remember that Cruz broke up a 5 2/3-inning no-hitter in Sunday's game against Tampa Bay. He seems to have a gift for that. Too bad both turned out to be losing efforts. Tony Womack contributed half of the Reds' four hits.
The Reds record stands at 4-5.
The full-team Reds face the Pirates in Bradenton today at 1:05 p.m. Projected opening day starter Aaron Harang had been scheduled to start, but has been scratched due to inflammation in his right shoulder. He's currently listed as day-to-day.