March 21, 2006
Wowza: what a day.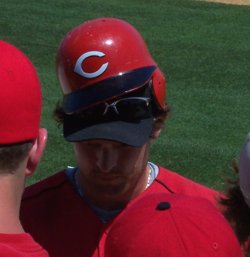 Monday started off calmly enough with a quick trip to the beach to let the tot make a sand castle. After that, we had the regular problems finding a convenient Internet connection and a quick trip to the frame shop before heading to Ed Smith Stadium.
It was a calm morning that belied the eventful afternoon.
I already recounted how I heard about the Wily Mo trade. A couple of innings in, I took my boy to the restroom. In one of those highly dramatic, movie-type moments, we passed by George Grande. This scintillating conversation ensued:
Me: Hi, George.
George: (Looking at me blankly, trying to figure out whether he should know me) Hi. Good to see you.
And then he patted me on the shoulder. Wow.
Just when I thought the game couldn't get any more exciting, my hubby spotted Raquel Aurilia in the stands. I went over to say hi and spent most of the rest of the game chatting with her. It was mostly stuff about our kids and her music career, but I asked how Rich likes playing first (which he was doing as we chatted). Richie, she said, is happy to play wherever they put him. She, on the other hand, sounds like she would like to see him consistently at second.
After the game, we made yet another abortive attempt to find an Internet connection, this time at Starbucks. Once I finally find a convenient and comfortable place to access the online Reds news I need so desperately, I'm going to have to sing its praises at some length. Just to warn you in advance.
Before I had a chance to properly get up to speed on this Bronson Arroyo character, it was time to head to FinDaddy's for the broadcast from 6 to 9.
The restaurant was packed, but the super-friendly greeter said she would "see what she could do." It turned out that a table had been reserved but someone had sat that party somewhere else, so it was available for us. Apparently the group that it had been reserved for was a group of VIPs because we were seated next to Joe Nuxhall.
BTW--for people who are coming to spring training looking for autographs, you absolutely should not miss FinDaddy's. It's a cozy atmosphere and everyone signs stuff. Plus, the servers are absolutely the friendliest people in the state.
At six o'clock, Bob Castellini was on the program. I got in line to meet him, and while I was waiting, chatted a little with Dewayne Wise, who was also signing stuff before he appeared on the program at 7. Wise was being very good, with a lot of "I just hope I can keep it going for the next week and a half" kinds of comments and a lot of nodding and smiling while gray-haired women told him all about how they'd beed Reds fans since back when the team was called the Red Stockings, but I think he's got a little bit of edge to him. He let a little bit of bravado come through later when he was telling Andy Furman how much he could bring to the team and how Chris Chambliss was "amazed" at how the ball jumped off his bad.
I liked Wise very well.
Finally I was up to meet Castellini. I had only a few seconds before they went back on the air, so the conversation was short. Here's a complete transcript of my chat with the richest person I've ever spoken with:
Me: I don't have anything for you to sign. I just wanted to introduce myself. I'm Amanda and I maintain a weblog about the Reds called Red Hot Mama. (handing him my card and matchbook)
Bob: You're a blogger? (This question isn't as dumb as it sounds. It was very loud in there, and I got the feeling he figured it out from my card, not my introduction.)
Me: Yeah.
Bob: You any good?
Me: The best.
Bob: (smiling and as Furman goes back on the air) It was nice to meet you.
Still a little trembly, I worked my way back to my table. As I sat down and started to tell my husband about the interchange. That's when I noticed who would be the guest in the next hour standing a few feet away.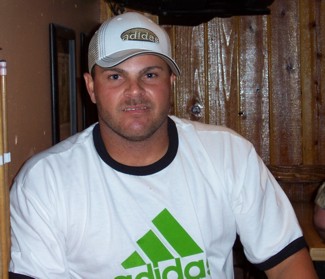 It. Was. The. Latin. Love. Machine.
Live and in person. I got in line for that one right away and had introduced myself before he was even on the air. I asked if it was OK to take a photo and gave him one of my matchbooks. Here's the complete transcript of the LLM-iest person I've ever spoken with:
Me: Is it OK for me to take your picture for my weblog?
LLM: Sure.
Me: You're one of our favorites over on my blog.
LLM: (looking at matchbook quizzically) 'Red Hot Mama'? What is this?
Me: (only slightly emotionally decimated that he'd never heard of it) It's a website where I write about the Reds. I talk about you a lot.
LLM: Oh, OK. (pocketing matchbook)
I had a similar conversation with Aaron Harang, and then snapped a photo of Jacob Cruz without even asking.
We ended the eventful day with a trip to a coffee house we'd heard had Internet access. It was closed, but I did get to sit in the parking lot and read how displeased with the Arroyo trade the people on RedsZone are until my son announced that he had to pee.
What an exciting day. Who knows what kind of excitement Tuesday will hold. Maybe I'll see Chris Welch.