March 21, 2006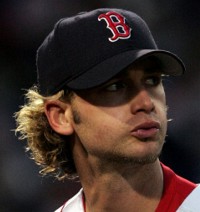 OK, so I haven't really had the time or Internet access to do a proper job of researching Broson Arroyo, but I'm 90% confident that I'd be saying the same thing after proper research as I'm going to say now: I think this was an adequate move.
Arroyo might not be the best pitcher in the world, but he's an improvement over our options. And the Reds just didn't need Peña's home runs and lack of defensive skill. We've got tons of that already. I'm super-psyched to think that this move opens up some space for Dewayne Wise or even (dare I say it?) Chris Denorfia.
And don't forget the benefit to Peña. He's a young guy with tons of potential that just keeps not getting met in Cincinnait. He never quite fit in with the Outfield Buddies, and he never seemed to be getting a chance. He's in a good place to give a new venue a try. Maybe the change of pace will be what it takes to let him finally put it all together.
Thanks to the anonymous person who sent me a couple photos of Arroyo, as well as some rather disheartening sound bytes. I credit you with that 10% lack of confidence in this move.