March 22, 2006
Hoping to repeat the rampant success of Danny Graves, the Reds started David Weathers in their win against the Blue Jays on Monday in Sarasota.
Weathers allowed two runs (one earned) on one hit through two innings of work. Ryan Wagner gave up the other Toronto run on two hits in the third inning. Brian "Love" Shackelford, Jason Standridge, and Todd Coffey each put up a hitless inning, with Coffey getting the win. Michael Burns contributed two hitless innings. Jake Robbins' scoreless inning saw two hits.
Rich Aurilia had a good day with an RBI double in the sixth inning and an impressive heads-up play to throw a guy out at home. Especially encouraging, since he'll probably be seeing quite a bit of time at first. Ryan Freel also provided an RBI and Brian Buchanan provided two.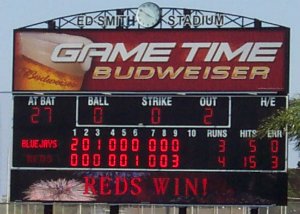 The woman in the row in front of us was selected as the Carraba's sweetheart of the game, and was presented with flowers and a gift certificate. She had spent most of the game consulting with her mother about the sunburn on her shoulders and reading a celebrity magazine, so she definitely didn't see it coming, even after they announced her section, row, and seat number. She also narrowly avoided a foul ball a few innings earlier, so it was a big game for her. Too bad there isn't a Jumbo-tron at Ed Smith.
The win brought the Reds' record to 11-9. They would go on to host the Indians on Tuesday afternoon.