March 24, 2006
Thursday morning we had a plan. Hit the coffeehouse for some quick internet access, then head over to Chuck E. Cheese in Bradenton for an early lunch, catch the game at McKechnie Field, then wrap up the evening at FinDaddy's for WLW's last broadcast of the spring.
We should have known better than to make a plan.
The coughing/spewing of my son kept us from getting out the door in time to make it to the coffeehouse. Fine. We could grab some internet later.
We were dressed and in the car when the boy announced that he was sick and he thought he should take a nap. We went back inside, he laid down on the couch, and was immediately asleep. That was actually a little frightening, but he wasn't feverish or anything, so we just let him rest. We'd visit Mr. Cheese's place another time.
He woke up in good spirits with just enough time to head to the game. He was upset about missing the pizza, so with vague promises to see what we could do, we got on our way.
At McKechnie Field, I was surprised at how many families I saw wearing Casey shirts from assorted teams. It never occurred to me before, but there are fans who actually switched team affiliation when Sean Casey was traded.
We sat down the left-field line, maybe 25 feet from the bullpen. We chatted with a lady in the row in front of us from St. Louis. She told us that the Cardinals' director of minor league operations was at the game. He had told her that he was just scouting the teams, but she thought he was there trying to deal for a second baseman. I told her that we have plenty to spare.
In the row behind us sat a large group of Boston fans, plus one or two Yankees fans that they were also buddies with. They were very entertaining to listen to, especially as Bucky Dent and Chris Chambliss walked by. I was sad to miss most of their conversation when the rain rolled in in the fourth inning.
I was way underdressed for rainy weather. I was miserable huddled under the awning outside the men's restroom in my tank top, shorts, and sandals, so though I experienced a little physical pain as Javy was announced and I knew I was missing him at the plate, I otherwise was OK with the idea of squeezing in that trip to Chuck E. Cheese that we'd missed earlier.
A couple hours and 84 ticket's worth of prizes (a red star necklace, a plastic car, and four rolls of Smarties) later, we were on our way back to FinDaddy's.
Traffic in Sarasota can be pretty hellish, so it was something like an hour's trip to get to FinDaddy's a little after 5:30 p.m. The back corner booth was available, where my boy would eventually fall asleep on the bench to allow us to stay all the way until 9 p.m. for the first time all week.
Andy Furman was visibly distraught. Tom Browning was scheduled to be the 6 o'clock guest, but he was nowhere to be found. Seg had been on the phone non-stop. At 6:10, Browning had still not arrived and the studio in Cincinnati could stall no longer. The broadcast from FinDaddy's had to go on the air.
To fill the time, Furman invited the audience to the stage to discuss their feelings on the Reds. Three college girls were the first in line, but only one of them had something to say. They were just as adorable as could be, so that almost drowned out the lameness of having to take two friends to ask Furman's opinion of why Casey was traded. (For the money, he said.)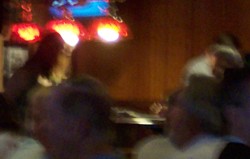 My lameness came in the form of chugging my second Bud Light before heading to the front of the room. They went to commercial just as I came to the front of the line, so I sat there chatting with Furman and trying to stop my knees from trembling before we were back on the air. Furman was constantly staring past me, though, at the door. Not only was Browning now a solid 30 minutes late, but their next guest, Kent Mercker, was also behind schedule.
I'm pleased to say that, though I wasn't particularly witty, I did manage to keep my cool when Furman accused me of looking like Madonna. And when he called me a liar for naming my site "Red Hot Mama," I just retorted that I have an affinity for irony.
My excuse for mentioning my site on the air was asking whether it was more ridiculous to have so many second basemen or to bring in yet another catcher. (The depth is a strength, he told me.)
Not long after I sat back down, Rich Aurilia appeared to save Furball. The line of fans willing to talk on the air had diminished, and as soon as Aurilia was in the building, they had him in a chair with a headset on. The engineer was adjusting his levels during his first few questions.
Soon I got in the meet-and-greet line for Aurilia. When I got to the front of the line, the conversation I had with him was by far the most satisfying one of these conversations to date:
Me: Hi, I'm Amanda. I run the blog Red Hot Mama. (gesturing to matchbook) I interviewed your wife.
Aurilia: Oh yeah. (genuine recognition on his face) That's you. I'll tell her I ran into you.
Me: Great. Hey, I'm glad you're back.
Aurilia Thanks.
I was pleased as punch. And apparently emboldened as three beers because when Todd Coffey sauntered by, I stopped him and had this conversation accompanied by a hearty handshake:
Me: Hey, man you're looking great. Are you still eating those mayonnaise and banana sandwiches?
Coffey: Always.
Me: Well, you're looking good anyway.
A dashing fellow I didn't recognize was the next guest. Furman introduced him as the "Heartthrob," which I was sure he was not. In fact, it was Justin Germano. He's no heartthrob, but if Germano can last the year he definitely has a shot at the Hottest Red title. And he's single.
There is one more event of the evening that I'm going to save as a surprise. It's almost time to head to St. Petersburg for the game against the Devil Rays where I think I'm going to try to do an audio entry that will include the surprise event to which I refer. It's not as cool as getting mentioned in Sports Illustrated, but…yes it is. To me, anyway.