March 26, 2006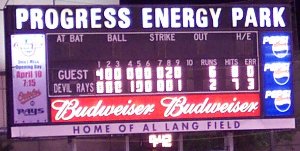 The Reds took down the Tampa Bay Rays 6-2 on Friday at Progress Energy Part in St. Petersburg.
Aaron Harang got the start and allowed one run on four hits through six innings. The single run came on an inside-the-park home run by Carl Crawford in the fourth inning. Mike Burns and Todd Coffey each contributed a scoreless inning. Matt Belisle gave up a run on two hits and two walks in his inning. Maybe it was just that I was so cold and wanted desperately to go home, but it really seemed like a rough ninth for Belisle.
Dewayne Wise sprained his ankle in the second inning when he tripped over second base while stealing. He lay on the ground for what seemed like a long time, pounding the dirt. It wasn't clear whether he was doing it out of pain or frustration at knowing he was just a week away from making the big league roster.
It's going to be a short game wrap for this game, but you can hear about the game in great detail in this week's special edition podcast.