July 16, 2006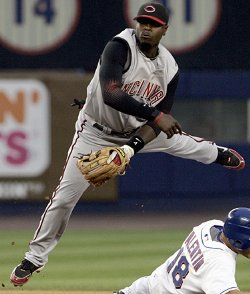 Brandon Phillips is the spunky second baseman of the Cincinnati Reds who came to the team when several players were competing to start at second. Ryan Freel, Tony Womack, and Rich Aurilia were all making a realistic play for the position coming out of spring training, so when Wayne Krivsky traded for Phillips on April 7, 2006, we rolled our eyes. It didn't take long before it no longer looked like we had a logjam at second, though. No, indeed, very soon after that move we had only one second baseman.
The Reds got Phillips from the Cleveland Indians for a player to be named later or cash. The player later named turned out to be Jeff Stevens. With the Indians organization, Phillips was known for his glove and a propensity to swing for the fences. They apparently got tired of waiting for him to be satisfied with hitting for average and sent him packing to the 'Nati.
With the Reds, first thing he did was be named the NL Player of the week. Apparently being on a team with a half-dozen home run sluggers took some of the pressure off. Or maybe some of their skills just rubbed off; his Player of the Week week included two home runs.
The deal for Brandon Phillips is one of three major deals made early in the tenure of Wayne Krivsky that solidified the legitimacy of the new general manager. The other two deals being those for Bronson Arroyo and David Ross. While all three players have been performing admirably in the first half of 2006, Phillips appears to have the most staying power. Arroyo has already begun falling off, and Ross is on the disabled list, but Phillips might just be the real deal.