July 15, 2007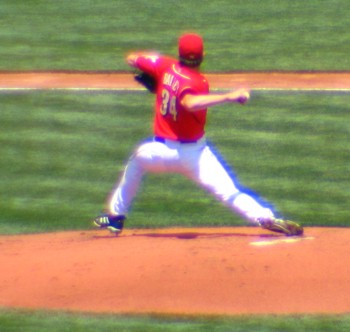 Sunday's game didn't work out so well for the Reds, but it was lovely for us, out in the sun/moon deck-ish area. We got to watch Homer Bailey, whom The Proxy has been quiet covetous of, fail to find the strike zone on the first pitch all night. But that was just one of many problems we had that game, including but not limited to: they wouldn't let us take our sunblock into the stadium, the mister wasn't on (though they did turn it on later), they were out of onions for the hot dogs, they've discontinued the Goetta Dog, and it was hotter'n hades. All-in-all, not among our best baseball experiences.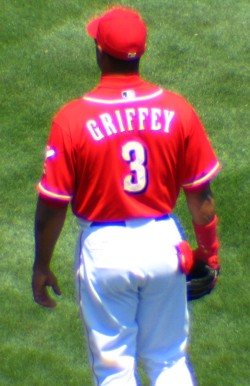 And the play didn't help matters. This was during the Narron era, of course, so I was surprised to get to see Javy at all. Of course it was to pinch hit in the fourth in place of Ricky Stone. Might seem sort of a wasteful way to use a pitcher, but it's nothing compared to the fact that Stone allowed two inherited runners to score before he allowed a run of his own.
Oh, Javy struck out, by the way.
Ken Griffey, Jr., on the other hand, had a pretty good game. He went 2-for-4 with three RBI. That's about the best thing you can say about this game, though, so I'll wrap it up there. There have been so many losses since then that we could be talking about!