January 2, 2008
Welcome to round 1 of the Jason Romano Commemorative NLC's hottest blogger contest. 15 of the best-looking players on NLC (plus one fella in limbo) face off in a single-elimination tournament.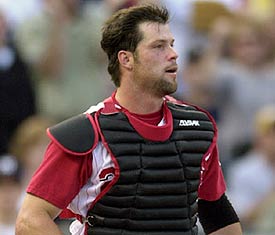 Special thanks to the literally one of your who nominated players. Don't see your favorite on the list? Well, I hope you've learned the benefits of nominating someone. The rest of the players were selected via a complex scientific process of looking at their profile photos on their teams' MLB pages and, in some cases, me just adding them. They were then quasi-randomized and bracketed for this exciting, once-in-a-lifetime contest opportunity!
You'll have 1 week to place your vote in each contest. New contests will be available as I get around to them. Feel free to pimp for your favorite in the comments. Results are final and cheating is OK as the contest doesn't really mean anything.
Our first pairing pits a longtime Red Hot Mama favorite, the Cardinals' Jason LaRue, against an unknown in the Brewers' Manny Parra.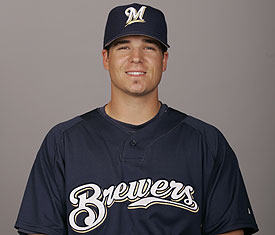 Jason LaRue
ht: 5-11 wt: 205 dob: 03/19/1974
LaRue boasts the square jaw, rugged features, and constant damp skin of the hometown boy all the country girls swoon over.
Manny Parra
ht: 6-3 wt: 200 dob: 10/30/1982
Parra brings a subtle sweet smile and boyish charm. And though you've never heard of him, that's only because he just debuted in July. In his 26.1 innings pitched, though, he brought a 3.76 ERA and 26 Ks.
[poll=8]