January 10, 2008
Welcome to round 1 of the Jason Romano Commemorative NLC's hottest blogger contest. 15 of the best-looking players on NLC (plus one fella in limbo) face off in a single-elimination tournament.
Voting has closed in our first pairing, finding veteran hottie Jason LaRue victorious over underdog Manny Parra. There's still time to vote in our second match, between Sam Fuld and Rick Ankiel.
Our third pairing sets the Astros' Brandon Backe against the Reds' Brandon Phillips. I suspect that this is the 1-16 seed game, but maybe Backe will surprise me.
Brandon Backe
ht: 6-0 wt: 195 dob: 4/5/1978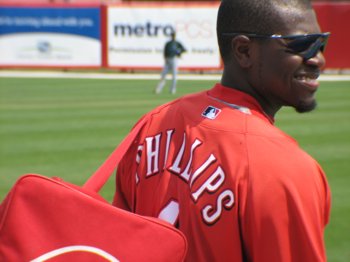 OK, so this battle of the Brandons might be more fair if it were Brandon Claussen representing the Reds, but Backe isn't bad, especially by Astros standards. And his 3-1 record in 5 games last season would have trounced Claussen.
Brandon Phillips
ht: 6-0 wt: 195 dob: 6/28/1981
A new member of the 30-30 club, a spectacular fielder, and the subject of debate over his parental status, Phillips may be the single-most exciting player on the Reds right now. And that includes Mike Stanton!
[poll=11]