January 27, 2008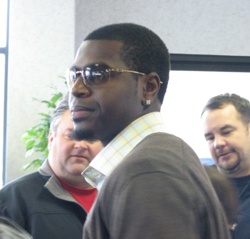 The Reds Caravan stop at Stoops Automotive in Muncie, Indiana yesterday was a much more streamlined, organized, and comfortable event than last year. The room was large enough for everyone without any people crowding into hallways or lining up outside the door in subfreezing temperatures. Visitors were given color-coded tickets on their way in the door so that they could join the autograph line in smallish groups rather than everyone standing in an interminable snaking queue. There were even reasonably priced snacks and drinks that benefited charity. It was like a professional organization was putting on the event or something.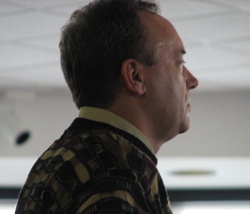 When we arrived, all of the chairs that had been set out were full and a hundred more people were standing in line to enter to win opening day tickets. We headed to the merchandise table where we considered the hair scrunchy, shot glasses, and license plate frames and eventually settled on a baseball-shaped pennant for my son to have autographed later.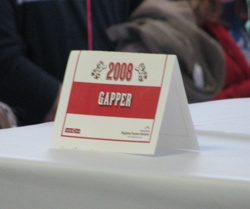 In the concession area, we got a cup of water and soon the caravaners were there, mingling among the fans and waiting to go on. Tom Browning, Wayne Krivsky, Brandon Phillips, and Marty Brennaman were chatting and posing for photos with whomever was around. The Gapper was already out and about in the crowd, charming the children and getting borderline inappropriate with the women. He had to get his time with the public in early because he appeared to be scheduled to sit on the autograph panel.
After a little bit of gushing by the guy from AM1340 ESPN Radio, the crowd got the opportunity to ask some questions. They talked a little bit about Joe Nuxhall, which was nice. Someone asked how much time Brandon Phillips spends practicing every day. Someone else asked about Erik Bedard. No one asked if Kriv-dawg was excited to have Walt Jocketty on staff. It was positive PR fun for everyone and we may feature some small bits of it on the podcast, so be on the lookout for that.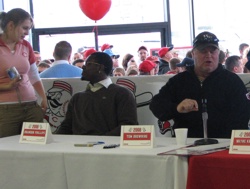 After the Q&A, they started lining people up to receive autographs. When our turn finally came (we were in the D group; they had tickets through J and beyond) our boy went down the line getting his autographs. He even got a quick photo with Marty and I got to introduce myself (again) to Tom Browning, identifying myself as the person whose podcast he was on after he released his book, which I was sort of surprised that he genuinely seemed to remember. I wanted to ask Phillips to confirm first-hand his parental status, but he was being interviewed by the ESPN Radio guy when we got to his end of the table.
All-in-all, a very fun time with a lot of kids and optimism. Ah, January.