April 1, 2008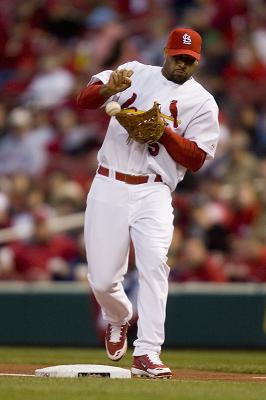 As I listen to Yadier Molina homer against the Rockies in this stupidly quiet second day of the season, I'm thinking about this press release I got in my inbox yesterday.
March 31, 2008

Missouri lawmaker takes on Major League Basebal

JEFFERSON CITY, Mo. – As Major League Baseball and its Player's Association discuss a new drug testing policy, Missouri State Representative Jeff Roorda has filed legislation to let the MLB know what he thinks the new standards should be.

He filed legislation today that would prohibit state tax credits from going to professional sports teams in a league that does not place at least a one-year ban on athletes who test positive for anabolic steroids.

MLB's current policy calls for such a ban only after the fourth failed test. Roorda's legislation would call on professional sports league to place such a ban on a player after the first violation.

"Since when in baseball is it four strikes and you're out?" Roorda, D-Barnhart, said. "What major league baseball and all professional sports leagues need are for their executives to step forward and take a strong stand to end the scandal of the steroid era. What we need is a modern-day Kenesaw Mountain Landis," Roorda added, referring to the legendary baseball commissioner who exiled the Chicago Black Sox in 1920 and sent a powerful message to all of Major League Baseball that gambling would not be tolerated.
It goes on, but you get the gist. I haven't been able to find any mentions of this in "legitimate" media, so it's either an elaborate April Fool's Day joke, or not very interesting. I'm not sure which: I'm afraid I've lose my sense of interesting on this stupidly boring second day of the season.
Though, I did get to hear the FSN Midwest tagline–"Where Cardinals fans come first!"–which gave me a good laugh. I'm pretty sure they're faking it.