April 10, 2008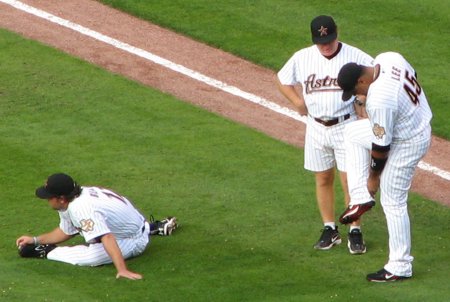 Tuesday was the second game of the 2008 season held in Minute Maid park and the first time the Red Hot Mama clan had ever visited the juice box. Just check out the stylish shorts they're wearing in Texas this time of year. It reminds me of mail men walking about in their abbreviated uniform pants and high black socks.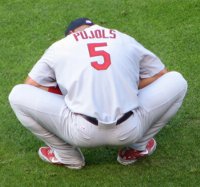 We didn't arrive early enough to get the Hunter Pence statue (can you believe they're already doing give aways in the opening series??) due to an ear infection our son was just beginning to develop, but we were there in time to catch some of the pre-game stretching.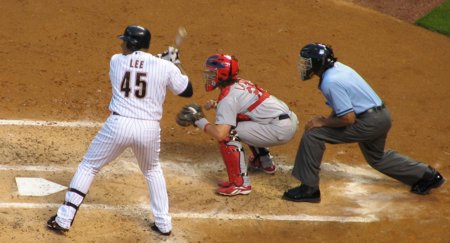 Look! Carlos Lee at the plate. Lee is one of the no-glove, all offense players that are the new face of the Astros now that they're getting entirely away from their good pitching/no scoring roots. Speaking of roots, the CTS mentions that Carlos Lee fields like an ent.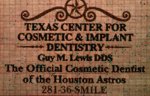 Did you know that the Astros have an official cosmetic dentist? Do you think that there are gopher-toothed prospects out there praying to be traded to Houston for that very reason?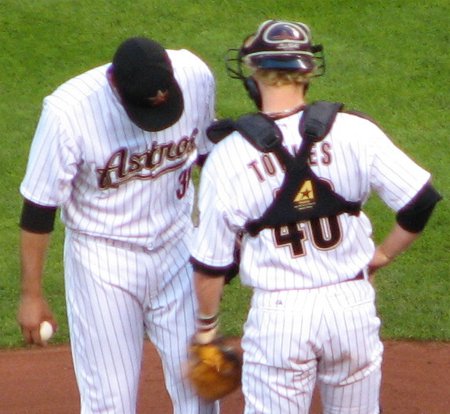 Here, the CTS shows off his mad zoom skills with a tight focus on Chacon and Towles meeting at the mound. We were sitting in the Terrace section, the third level. Binoculars would have been more than appropriate for where we were watching from.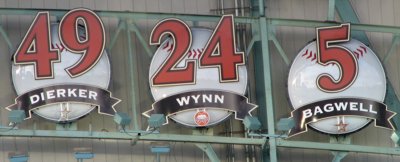 The Astros have a nice way of acknowledging their retired numbers, so that the names are posted along with them. There are several nice features of this park, such as the most challenging 5-card-Monte scoreboard game, but it loses serious points for having no cup holders. On the flip side, they did have straws, which are usually missing from ballparks, so I liked that.

Here we see the famous Minute Maid pumpkin train. Love that Minute Maid pumpkin juice. Nothing starts my day off quite the same way.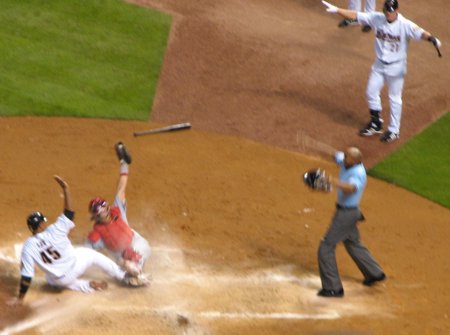 Lee was safe! Can you believe it? The shot, I mean. Again, the CTS with the power of the zoom.
Alas, the run would not be enough as the Astros lost to the Cardinals 5-3. We had to appreciate them keeping it close right up until the end though, and we wandered back to our hotel, happily unaware of the nighttime ear pain that would keep me and my son up most of the night.