July 18, 2008
| Team | 1 | 2 | 3 | 4 | 5 | 6 | 7 | 8 | 9 | R | H | E |
| --- | --- | --- | --- | --- | --- | --- | --- | --- | --- | --- | --- | --- |
| Mets (52-44) | 0 | 0 | 0 | 2 | 2 | 2 | 0 | 0 | 4 | 10 | 14 | 1 |
| Reds (46-51) | 0 | 0 | 0 | 5 | 0 | 0 | 3 | 0 | 0 | 8 | 12 | 1 |
W: Sanchez (4-1) L: Corder (4-2) S: Wagner (23)
The Reds launched the start of the second half of the year with a loss. So things weren't really all that different for them.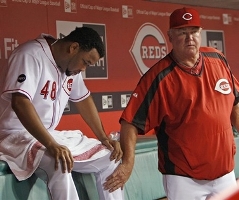 One thing that was new was the team battled back from deficits multiple times. The most exciting was when Javier Valentin pinchhit with the bases loaded. He launched a double into the outfield that cleared the bases. I haven't seen Great American Ball Park that excited in some time. Glad to see the LLM get some love, even when it's not latin.
Of course, the game didn't end there. The Reds headed to the 9th with a 2-run lead, so they trotted out their expensive closer, Francisco Cordero. As he started pitching, the TV announcers, Jeff and George for those of you keeping track at home, gushed about how he'd been better than expectations and well worth what it took to bring sign him. Really?
Before last night's game, Cordero had blown 4 saves in 23 chances this year. That's a success rate of 82.6%. Last year, David Weathers blew 6 saves in 39 chances for the entire year. That's a success rate of 84.6%.
Weathers earned $2.25 million last year. Cordero is earning $8.625 million this year. Well worth it, indeed.