July 23, 2008
| Team | 1 | 2 | 3 | 4 | 5 | 6 | 7 | 8 | 9 | R | H | E |
| --- | --- | --- | --- | --- | --- | --- | --- | --- | --- | --- | --- | --- |
| Kinghts (49-56) | 0 | 0 | 1 | 0 | 0 | 0 | 0 | 0 | 0 | 1 | 5 | 0 |
| Indians (49-56) | 1 | 0 | 0 | 0 | 0 | 2 | 0 | 0 | - | 3 | 8 | 0 |
W: Hamman (1-1) L: Russell (3-1) S: Meek (1)
This week on the podcast, the CTS and I take the day off work to visit Victory Field where the Indianapolis Indians took on the Charlotte Knights for a business person's special. The background noise is all AAA ball, but the subject matter is all NLC.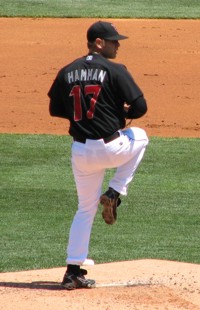 In addition to a minor sunburn, our seats on the third-base side gave us a great view of the Indians pitchers warming up in the bullpen.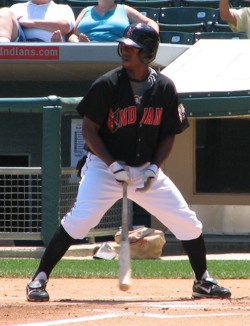 I imagine the CTS took this photo in direct response to me giving him a hard time about taking pictures of the Reds cheerleaders at the last game we went to.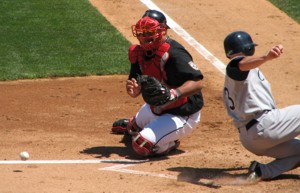 He's safe!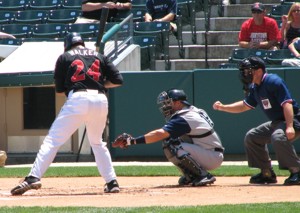 You can't beat the up-close experience of a minor league ball park.
Podcast: Play in new window | Download