Daily Archives: July 26, 2008
July 26, 2008

July 26, 2008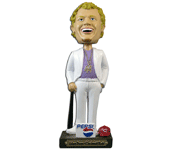 Tonight, the first 30,000 lucky fans to Great American Ball Park will receive this bobblehead of Adam Dunn "sporting 1980s threads." Some think the outfit is Don Johnson-esque. Others say Spencer from "The Hills." I heard Brandon Phillips on the radio yesterday say that the bobblehead made Dunn look like Clay Aiken.
My first thought, though, was that it's a Roxbury suit, as if fake news from 2005 is till rattling around in the Reds' collective consciousness:
The search for the bat took Kearns and Dunn on a wacky adventure through Denver, starting at a local high-end tailor. They had apparently had matching irridescent suits made because they wanted to look "just like those Night-at-the-Roxbury dudes on Saturday Night Live."

"What Is Love?" by Haddaway blasted in the background as the two tried on the new suits. That's when they noticed the tattoos on their backs.

"Dude, what does mine say?" asked Dunn.
"'Donkey,' what does mine say?" Kearns replied.
"Dude, how many times do I have to tell you that only chicks can call me that, and what does mine say?" Dunn responded.
"They fit all that on my back?" asked a bewildered Kearns.
They are playing Colorado, which is who they were playing when this story took place, and putting Dunn in a fancy suit with a big gold chain seems otherwise irrelevant to the game. On the other hand, the intern who came up with this idea was probably too young to be reading RHM in 2005, just as Dunn, born in 1979 in Texas, would have been too young (and Texan) to ever have worn that suit.
Looks good on him, though. He ought to consider it.