August 16, 2010
If you've been reading RHM, or following me on Twitter, or watching my Facebook updates, or talking to me in person, or in any other way sensing the vibes that I have been emitting into the cosmos, you know that I have been less-than-pleased with the acquisition of Jim Edmonds.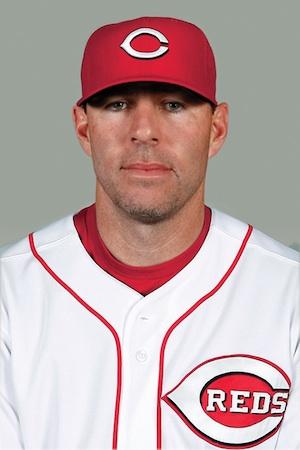 To put it in perspective, I was more upset about this acquisition than about the reports that the Reds are planning to extend the contract of Dusty Baker, the hiring of whom inspired me to take "Cincinnati" right out of the site's tagline and add pictures of the freakin' Pirate Parrot to the banner image at the top of the front page. Though, to be fair, Dusty Baker has sucked a whole lot less in the recent past. Unfortunately, the same cannot be said of Jim Edmonds.
The other night, Redleg Nation tweeted something to the effect that eventually they'd have to start cheering for Edmonds because "he's one of us now." To which I replied, "he's about as much one of us as Corey Patterson…and he's about as productive so far." To which, Rocktman65 replied, "but 2 hits will surpass that."
Two hits. And just 13 ABs into his time with the Reds, Edmonds–the guy who was brought aboard for his bat–is halfway there.
My complaints about Edmonds are not about what we gave up to get him. As much as I liked Chris Dickerson (I always have a soft spot for the guys I get to talk to in person, and I got to talk with him at a Reds Caravan one year), heaven knows he wasn't going to get any play in the Reds' overcrowded outfield, and he's actually getting a shot with the Brewers.
No, my complaints are about who Baker will inevitably block with Edmonds: any of a number of young, deserving outfielders. Five of them–Drew Stubbs, Chris Heisey, Laynce Nix, Jonny Gomes, and Jay Bruce–some more deserving than others, but none safe from the "intangibles" that Baker is so confident over-the-hill players bring to the field. For those of you keeping count, that's six outfielders, certainly too many, and it ain't Edmonds who's gonna get sent down.
But yesterday, when Joey Votto got ejected from the game (apparently for an offensive jut to his chiseled chin), with Paul Janish already in for the injured Orlando Cabrera and Miguel Cairo already spelling Scott Rolen, it was Edmonds who came in to cover first.
And suddenly I realized a way I could get on board with Edmonds on the roster: backing up the corner infield.
I mean, this dude used to be all that in the outfield, but his range is better suited to the infield these days. Leaping to catch high drives might be similar to snagging one over the wall, and surely the throw from third to first isn't any harder than the one from center to second.
And with a couple All-Stars in the full-time positions, I won't have to worry that he'll be getting too many starts. Either he'll be a bat off the bench, getting a couple starts a month, or he'll take a screamer down the line to the shin and we won't see him for the rest of the season. Either way, I won't have to worry about him too much.
Maybe I'll even be inspired to take down the Parrot.