August 1, 2010
| Team | 1 | 2 | 3 | 4 | 5 | 6 | 7 | 8 | 9 | R | H | E |
| --- | --- | --- | --- | --- | --- | --- | --- | --- | --- | --- | --- | --- |
| Indians (44-61) | 2 | 0 | 0 | 0 | 2 | 1 | 0 | 0 | 0 | 5 | 7 | 0 |
| Blue Jays (54-51) | 0 | 1 | 1 | 0 | 0 | 0 | 2 | 0 | 0 | 4 | 9 | 1 |
W: Gomez (2-0) L: Litsch (1-5) S: Perez (12)
RHM and I found ourselves vacationing in Toronto, Canada this week, birthplace of one Joey Votto, and decided to take in a Toronto Blue Jays game.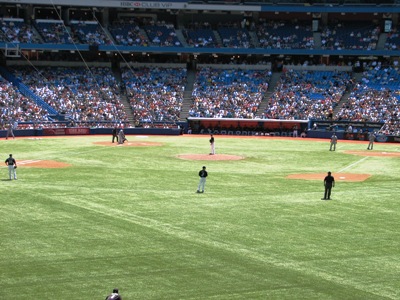 The Bue Jays on the field at Rogers Centre.
We had originally hoped to see former Red Austin Kearns in right field because the Blue Jays were finishing up a series against the Cleveland Indians. Unfortunatey, or fortunately if you're Kearns, he was traded to the Yankees just before we arrived in Toronto.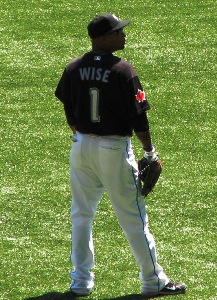 Despite the trade, we were treated to a former Red in right. Dewayne Wise was patrolling right for Toronto. After a couple years with the White Sox, he's having a solid year as a back-up for the Blue Jays.
Rogers Centre was nice for a donut-shaped stadium. The fully circular ones always make for a more convincing, uninterrupted wave. And one did break out. The food choices were outstanding, with everything from the regular ball park food such as popcorn, peanuts, and hot dogs, to some pretty sweet BBQ chicken nachos. The specialty nachos had fresh–not pickled–jalapeños!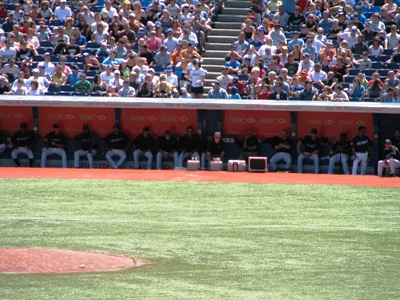 The dugouts had no rails, with just steps leading to the bench. I'd hate to be running to catch a foul ball close to that. Ouch!
The beer selection on the concourse level was weak, with Budweiser providing the majority of beers on tap. Where was the Molson? Or LaBlatt? Or any of the craft breweries local to the area. Heck, Steam Whistle is kitty-corner to the stadium and wasn't to be found. Overall, the beers sucked.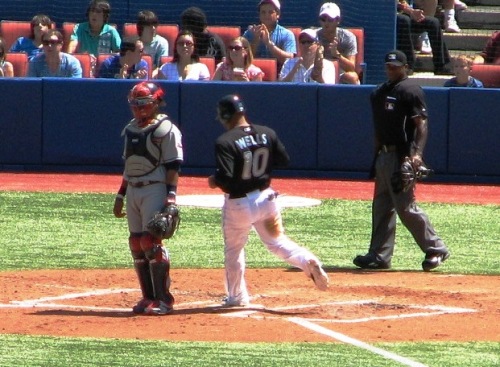 Vernon Wells had a solid game for the Jays, going 2 for 4. Above, he's scoring the tying run in the bottom of the 3rd.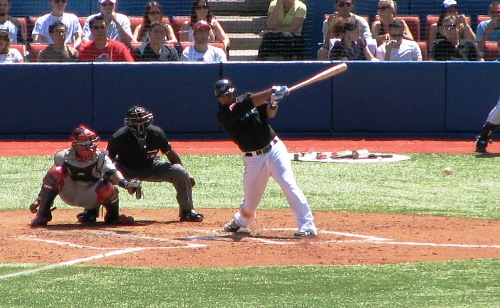 Unfortunately, when Wells came up later in the game, he missed out on a chance to turn his good day into a game-changing one. He had a bad swing and grounded out to third.
The what-was-left-of-the-Indians had some shaky relief, but weathered 2 solo shots from the Jays to hang on to a 5-4 win.
Rogers Centre was a nice place to catch the game, and just about the cleanest stadium I've ever watched a game at. Just make sure you order your tickets early and are ready for a day filled with American domestic beer.