August 30, 2010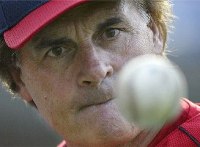 In what's becoming a recurring theme of the 2010 season for the St. Louis Cardinals, Tony La Russa is again complaining about something that happened in the game against the Washington Nationals yesterday.
In the 9th inning, Nationals rookie reliever Drew Storen lost control of a fastball when pitching to Matt Holliday. The pitch sailed behind the batter. La Russa said, "If somebody throws the ball behind you, you're not happy. Especially up in that area. If you don't have that kind of command, it wasn't intentional, then you don't belong in this league."
La Russa has made similar complaints before. I remember him making even harsher statements once when Reds pitcher Aaron Harang threw a wild pitch. Strangely, I never hear of other teams managers making the same criticisms when Cardinals pitchers throw wild pitches.
Of course, this is coming from a manager with a DWI on his record. I could make a cheap shot about how someone who can't control their alcohol consumption doesn't belong in the league. However, I'll instead sit back and enjoy the Cardinals meltdown this year. For all of their "bitching and moaning" seems to do nothing more than cause them to lose focus and fall further and further behind the Reds. They lost that game to the Nationals yesterday.