August 23, 2010
Unafraid of the curse, Joey Votto will appear on the cover of Sports Illustrated on August 30, 2010.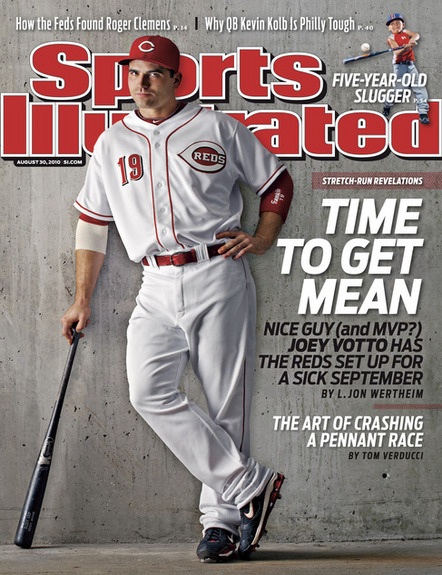 I'm about as unsuperstitious as they come, but I will point out that the last Red to appear on the cover of this magazine was Ken Griffey, Jr., and we all know how that turned out.
It's a common for magazine covers to have numerals in their headlines. For some reason, plugging stories like "5 Easy Ways to Lose Your Gut at the Game" and "The 0 Best Places for Ball Park Sushi" are just really appealing to readers.
But this cover features only one numeral: the 19 on Votto's chest. Even the secondary story about the kindergartner-slugger breaks AP style by spelling out an age. Apparently that 19 carries a lot of weight all on its own.
That, and the come-hither look Votto's giving the newstand passer-by, a smoldering look that seems to say, "Me? Cursed? I've already survived Dusty Baker: I'm untouchable."