September 11, 2010
| Team | 1 | 2 | 3 | 4 | 5 | 6 | 7 | 8 | 9 | 10 | 11 | 12 | R | H | E |
| --- | --- | --- | --- | --- | --- | --- | --- | --- | --- | --- | --- | --- | --- | --- | --- |
| Pirates (47-93) | 0 | 0 | 1 | 0 | 0 | 0 | 0 | 0 | 2 | 0 | 0 | 0 | 3 | 10 | 3 |
| Reds (80-61) | 0 | 0 | 3 | 0 | 0 | 0 | 0 | 0 | 0 | 0 | 0 | 1 | 4 | 9 | 0 |
W: Smith (3-2) L: Ledezma (0-2)
It took 3 innings more than it should have, but the Cincinnati Reds finally won another game, beating the Pittsburgh Pirates late last night 4-3.
Homer Bailey started for the Reds and pitched more than good enough for the win, going 7 innings and allowing 1 run while striking out a career-high 9. Unfortunately, Francisco Cordero came in in the 9th for the save with the Reds leading 3-1. He faced 5 batters and got only one of them out. After that, the game was tied.
It was Cordero's 7th blown save of the season. He was bailed out in the 9th by Arthur Rhodes. Then the bullpen came in to shut down the Pirates until the Reds could score.
Cincinnati was unable to plate a run until the 12th, despite opportunities throughout the game. In the bottom of the 12th, Chris Heisey started things off by bunting down the 3rd-base line. He saw the third-baseman playing back and took advantage, beating the throw with his speed. After that, the birthday boy Joey Votto was hit by a pitch–the second time of the game–and Scott Rolen loaded the bases with a single. Up came Jonny Gomes, who hit a grounder that the shortstop Ronny Cedeno fielded cleanly. Cedeno threw home, and the umpire initially signaled out, until he saw the ball pop out of the catcher's glove. The crowd roared as the call switched to safe and the Reds had another walk-off win.
The RHM crew had the opportunity to watch the game from the Cincinnati Bell Riverfront deck above the batter's eye in center field. It's a great view, and if you ever have the opportunity, be sure to take advantage of it. Below are a few pictures.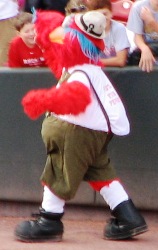 It was German Heritage night at Great American Ballpark. To celebrate, for the first time I've ever seen, Gapper put on pants.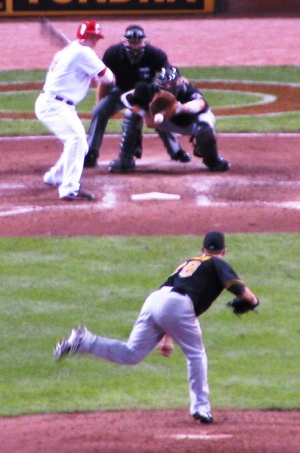 It was Joey Votto's birthday, but it wasn't a good one. He had no hits and struck out 3 times, twice looking. He also got hit twice.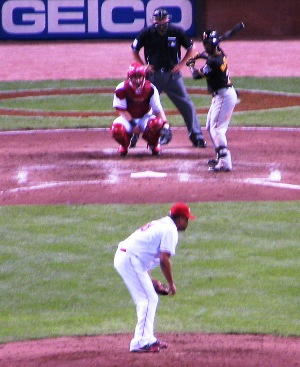 Francisco Cordero, before all hell broke loose.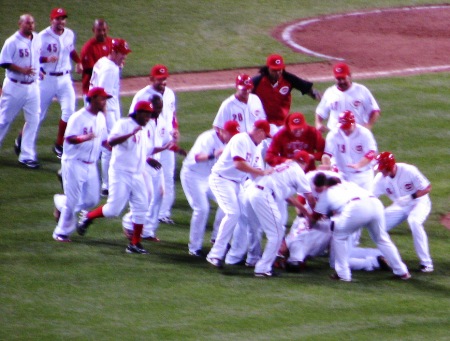 The Reds rushed the field, piling on Jonny Gomes, while someone next to me screamed, "Don't hurt Gomes! We've only got 3 outfielders!"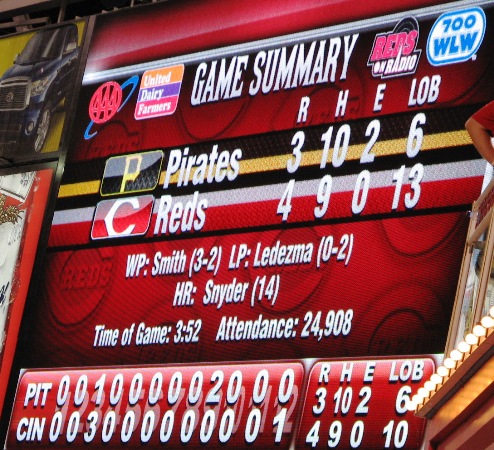 The scoreboard showing the Reds breaking their 5-game losing streak.