September 4, 2010
| Team | 1 | 2 | 3 | 4 | 5 | 6 | 7 | 8 | 9 | R | H | E |
| --- | --- | --- | --- | --- | --- | --- | --- | --- | --- | --- | --- | --- |
| Bats (78-62) | 6 | 0 | 0 | 4 | 2 | 0 | 3 | 0 | 1 | 16 | 18 | 0 |
| Indians (69-72) | 3 | 0 | 0 | 0 | 0 | 3 | 0 | 0 | 0 | 6 | 12 | 0 |
W: Valiquette (2-1) L: Crotta (5-10)
The Louisville Bats, the AAA affiliate of the Cincinnati Reds, are still in the hunt for a playoff spot in the International League. Last night, we caught their game against the Indianapolis Indians, the AAA affiliate of the Pittsburgh Pirates, to see how they would fare now that the Reds have called up so many of their best players. The answer was: very well.
The offense charged out of the gate, scoring six times in the top of the first. But Bats starter Tom Cochran allowed the Indians to halve the lead in the bottom of the first. Cochran lasted just four innings, thanks to a pitch count of 95.
The bullpen wasn't perfect, allowing 3 more runs, but the Bats were up to the task and scored 10 more runs over the rest of the game.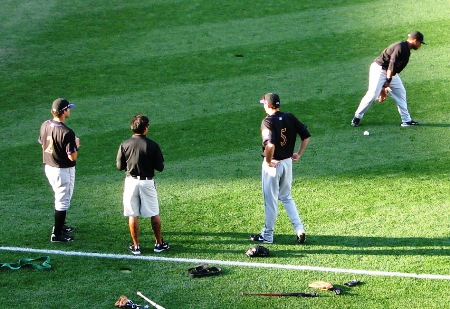 The Bats warming up before the game.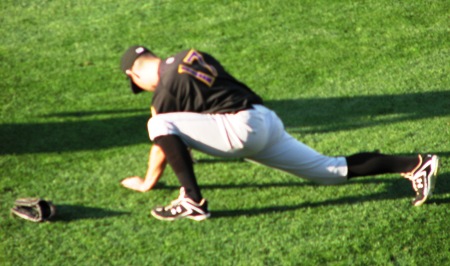 Shortstop prospect Zach Cozart stretching during pregame.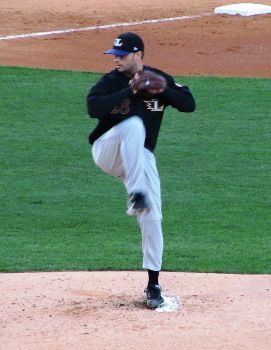 Tom Cochran pitching to the Indians. Despite the offensive outburst, he didn't get the win. He was removed after 4 innings, having allowed 3 runs.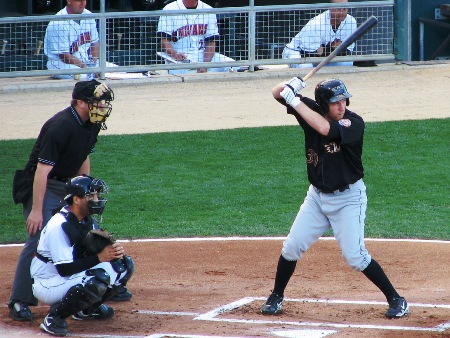 Todd Frazier batting and on his way to a 3-hit, 4-RBI night.
The win puts the Bats 1/2 game out of first place and 1 game ahead in the wild card standings.
I was wearing my Joey Votto jersey at the game, and I saw not one, not two, but three (Ah! Ah! Ah) other Votto jerseys. He'd definitely getting some fans all the way in Indianapolis.