September 1, 2010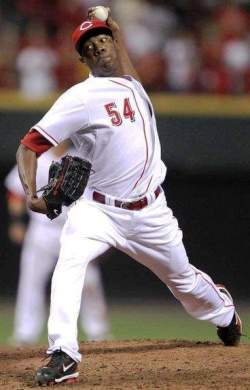 The RHM crew were there in Spring Training for one of Aroldis Chapman's appearances. And we caught one of his performances with the Bats when they stopped by Indianapolis. We weren't in Cincinnati for his Major League debut last night, but we were glued to the television. Dusty Baker said it best, "We weren't disappointed."
No, no we were not.
Aroldis Chapman came on in the 8th with the Reds holding a comfortable 8-3 lead. It was the perfect opportunity for him to get his feet wet, and if he wasn't sharp, the damage could be controlled. There was no need for damage control. Chapman's first pitch was a 98 mile-per-hour fastball strike to Jonathan Lucroy. Next was an 86 mph slider that Lucroy swung and missed at, followed by fouling off a 102 mph fastball, before striking out on another 86 mph slider. Lucroy just became Chapman's first big league strikeout.
Chapman's pitch count ended up being 8 for his inning of work. 7 of them were strikes. After the initial strikeout, he got groundouts from Craig Counsell and Carlos Gomez, all while continuously throwing 100 mph or above.
What a debut. The crowd was on their feet for the 8th inning, to see the marvelous Cuban pitching phenom. And I sat at home, visions of Chapman mowing down postseason opposition in my head. A long time ago I worried about Chapman getting some terrible injury before he ever made it to Cincinnati and how hard I thought it would be to be the people in charge of deciding when Chapman was called up. Kudos to them. They've done a perfect job.