September 28, 2010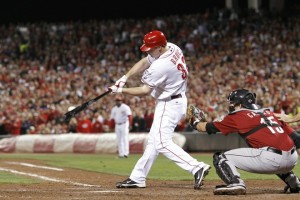 The Cincinnati Reds clinched the NLC Division tonight with a walk-off home run from everyone's second favorite left-handed slugger, Jay Bruce.
From the first pitch, the game had a buzz. When the team left on the road trip, the discussion began about whether the team would clinch on the road, and when they came home with a magic number of 1, Reds fans were bursting with anticipation.
Enter the Cardinals. They were in an ugly position yesterday. Probably the single-most unpleasant thing they could have done to the team was to lose and leave us to awkwardly begin celebrating in the middle of an off-day, but that would have also meant eliminating themselves with a loss against the Pirates. Happily for everyone, they saved their crash-and-burn at the hands of the Pirates until tonight. They lost 7-2 tonight.
So the team was set up for high drama. The fans were on the edge of their seats from the beginning, and they were scrutinizing every play with the highest of expectations. Drew Stubbs' double off the wall in left field almost brought a groan that it didn't have that extra 18″ it needed to go over the wall.
Edinson Volquez was great. Aroldis Chapman brought the heat. Scott Rolen did his RBI thang. But even so, the Reds found themselves tied with the Astros going into the ninth inning. Did the fans in the stands realize at that point that it was a karmic necessity for the team to go into the bottom of the ninth in that situation? I don't know. But it was clear as soon as the ball left Jay Bruce's bat that there couldn't have been a better way to win.
Five more games remain in the season, and the Reds will be trying to gain some advantage in the home-field, though probably not as hard as they try to prepare everyone for the post-season, which they are now most definitely going to.
I could get used to typing things like that.