December 10, 2010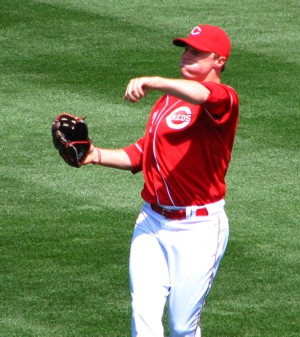 Jay Bruce has signed a 6-year contract with the Cincinnati Reds, according to ESPN.
Bruce had been forthcoming about his desire to stay with the Reds just last weekend at RedsFest. "This is the place I want to be," he said then. "We're in a great position as far as the team, and the front office is doing all the things necessary in order for us to continue to win. That's what I want to be a part of. I'd love to be here."
And he will be. The deal is reportedly for 6 years and $51 million. There is also a club option for a seventh year, which would bring the contract's total value to $63 million. The guaranteed contract eliminates the need for salary arbitration for Bruce this year, as well as keeping him with the club for several years into what would have been his first free agent foray.
With career highs in all the best offensive categories (25 home runs, 70 RBI, .281 average, 35.3 Not Out Percentage, and .493 Slugging), Bruce established himself well in his age 23 season. There is definitely potential for growth and improvement, too.
This deal could prove to be a bargain if Bruce continues to improve. Even with the same production as 2010, I think it's worth it. Bruce's excellent, gold-glove level defense in right field isn't something that's likely to degrade, either. Unlike the other two signings this off-season by the Reds, it is refreshing to have a reasonable expectation of improvement for a player. I look forward to seeing Bruce patrolling right field for the foreseeable future.