April 23, 2011
| Team | 1 | 2 | 3 | 4 | 5 | 6 | 7 | 8 | 9 | R | H | E |
| --- | --- | --- | --- | --- | --- | --- | --- | --- | --- | --- | --- | --- |
| Reds (11-10) | 0 | 0 | 0 | 0 | 0 | 2 | 0 | 3 | 0 | 5 | 4 | 0 |
| Cardinals (11-10) | 0 | 1 | 1 | 0 | 0 | 1 | 0 | 0 | 0 | 3 | 8 | 2 |
W: Chapman (1-0) L: Batista (1-1) S: Corderos (3)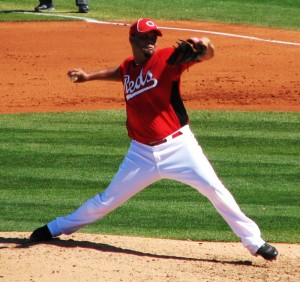 A day after the St. Louis Cardinals cheated themselves to an early advantage, the Cincinnati Reds finally got their bearings back and put away the Redbirds.
Things started very well, with Reds' starter Travis Wood pitching a scoreless first inning. Let me repeat that. A Reds starter pitched a scoreless first inning. While it might seem a mundane thing, it's something that hadn't happened for 6 or seven games. Wood did allow runs in the 2nd, 3rd, and 6th, but he did turn in a quality start.
Chris Carpenter started for the Cardinals and was wild in the first, but managed to escape unscathed. The Reds continued to have solid at-bats against him, working up his pitch count. He left after 6 innings having thrown 103 pitches and allowed a couple of runs.
Those 2 runs for the Reds came when they were down 2-0 in the 6th. Joey Votto came to the plate with a runner on and deposited a 3-0 pitch over the outfield wall. That's what an MVP does right there.
The Reds promptly gave up the lead in the bottom of the 6th, but their attitude seemed less defeated than before. RHM turned to me during the rain delay and said, "They're going to win this one."
And they did, thanks to the Cardinals' crappy defense and Ryan Franklin. In the 8th, Miguel Batista was pitching. Drew Stubbs reached on an error, Brandon Phillips struck out, Joey Votto was intentionally walked, and Jonny Gomes was hit by a pitch. Trever Miller was brought in to face Jay Bruce, but Bruce worked a walk that brought in the tying run. Then the Cardinals turned to their former closer, Franklin, who promptly gave up a two-run single to Miguel Cairo.
That was enough for the Reds. Francisco Cordero came in for the Reds in the 9th and pitched a perfect inning for his 3rd save.
The Reds and Cardinals will play tomorrow night to see who wins the series. We'll see if the Cardinals can go another game without cheating.