April 9, 2011
| Team | 1 | 2 | 3 | 4 | 5 | 6 | 7 | 8 | 9 | R | H | E |
| --- | --- | --- | --- | --- | --- | --- | --- | --- | --- | --- | --- | --- |
| Reds (5-2) | 0 | 0 | 1 | 0 | 0 | 0 | 0 | 0 | 1 | 2 | 8 | 0 |
| Diamondbacks (3-3) | 2 | 1 | 0 | 0 | 0 | 3 | 1 | 6 | - | 13 | 13 | 0 |
W: Kennedy (1-0) L: Wood (1-1)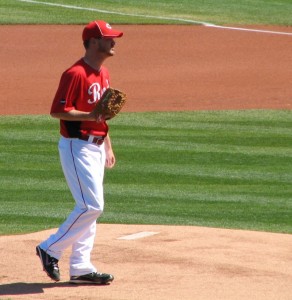 In case you missed it last night–it was a later game than usual–the Cincinnati Reds did not fare well in their return to Arizona. They were crushed by the Diamondbacks, losing 13-2.
Travis Wood started, and it was evident from the very beginning that he didn't have his best stuff. He allowed 2 runs in the first and another in the second. He settled down for a bit, pitching scoreless 3rd, 4th, and 5th innings, but lost in the 6th. After 4 batters and some more runs, he was pulled. His final line was 5 innings, 6 runs–all earned, 4 strikeouts, and 2 walks.
The bullpen wasn't able to stop the bleeding and give the offense hope of making up the deficit, either. Matt Maloney had a night he'll want to forget as he allowed 7 runs in just 1 2/3.
As for the offense, they were quiet, contributing just two runs. Brandon Phillips had a sacrifice fly in the 3rd, and Joey Votto had a solo shot in the 9th. That was it. They didn't even leave a bunch of guys on base this time, just 6.
So the Reds now have their first losing streak of the season at 2. Clearly, it's time to panic. With just a half game lead over the Pittsburgh Pirates, it's clear this season is in serious jeopardy.
Unless they win again today when Bronson Arroyo starts against Daniel Hudson. First pitch is 8:10pm EDT.