April 24, 2011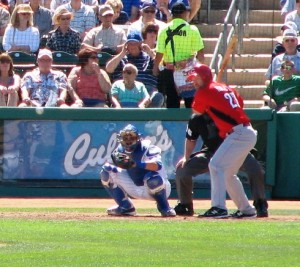 The Cincinnati Reds had played several games without third basemen Scott Rolen, and today they decided they couldn't play with a short roster any longer. Rolen has been placed on the 15-day disabled list.
The move is retroactive to Thursday, and leaves the Reds very short on the hot corner. Rolen's backup, Juan Francisco, was sent to the disabled list last week with a strained calf. And there are no real backups left on the major league roster because Edwin Renteria stubbornly refuses to play any position besides second and short.
The Reds' roster move to replace Rolen was to call up Chris Valaika, but I don't think he's well-suited for third. And his bat is definitely a big drop from Rolen's.
Despite the season being less than a month old, the Reds have had a parade of players to the disabled list. Rolen is the 7th such player, which is "good" for 4th in the majors. Despite all the injuries, the team has spent all but one day with a share of first place.