April 28, 2011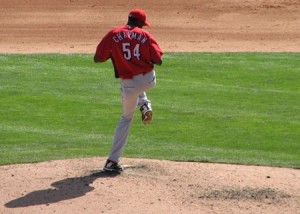 No, he's not a Pokemon, but Cincinnati Reds fireballer Aroldis Chapman seems to add to his move set the more battles he's victorious in.
Remember back to Saturday when the Reds beat the St. Louis Cardinals? Chapman got the win in that affair, shutting down the Cardinals in the 7th inning.
Yesterday, Chapman did it again, this time against the Milwaukee Brewers. He was brought in in the bottom of the 8th in a tie game with runners on first and second. He promptly hit the first batter he faced to load them, but after that, the Brewers didn't have a chance. He struck out Carlos Gomez and then got Ryan Braun to ground weakly to third for the final out.
But he wasn't done. The game was still tied heading into the bottom of the 9th, so rather than use his closer, Dusty Baker sent Chapman back out. Again, the Brewers didn't have a chance. He made Prince Fielder look silly, striking him out, got a fly-out from Casey McGehee, and then picked off the one runner he did allow to reach. Oh, and all of this with his fastball consistently north of 100 miles per hour. John Fay described it as Chapman's best game so far.
Chapman threw 19 pitches, 17 strikes.

"That was the best he's looked," Baker said. "He was throwing quality strikes and getting quality hitters out. … They got guys over there who can hit in the clutch."
Obviously the guy would be more valuable in the starting rotation, but he sure is a nice option to have right now. And until then, he might just be making Baker a better, smarter manager.
Let's hope he he's not reached level 100 yet. I'd hate to see him maxed out so early.