Monthly Archives: February 2012
February 26, 2012
Cincinnati Reds general manager Walt Jocketty confirmed today that the team is close to a multi-year extension with reliever Sean Marshall.
"That's one of the things we said we wanted to do when he traded for him," Jocketty said. "We want to get it done sooner than later. We'd like to get it done before games start."

Jocketty would not say how many years.

"It's not done yet," he said.
After the trade was confirmed shortly before Christmas, an extension was said to be something that was desired, but further news of it kind of faded away. Of course, what team wouldn't want more than one year of Marshall? He's one of the best relievers in the majors. I'm glad to see that the team has continued working on it.
I haven't seen any details released, but I'd guess it be in the neighborhood of 3 years at $5-7 million per year.
February 23, 2012
Milwaukee Brewers outfielder Ryan Braun has won his appeal to overturn a positive drug test.
Braun became the first major-league player to have a positive drug test overturned when he was informed Thursday that an arbitration panel ruled in his favor on appeal and decided against a 50-game suspension for the reigning National League most valuable player.
This is obviously huge news for the Brewers, who were potentially facing starting a season without both Prince Fielder and Ryan Braun. Now, the reigning MVP will be available from day one, meaning their offense will be far less punchless.
Details on why Braun is now also an MVP of drug test appeals were not released. The independent three-person arbitration panel's decision was a 2-1 call. And MLB isn't happy about the decision.
"Major League Baseball considers the obligations of the Joint Drug Prevention and Treatment Program essential to the integrity of our game, our Clubs and all of the players who take the field. It has always been Major League Baseball's position that no matter who tests positive, we will exhaust all avenues in pursuit of the appropriate discipline. We have been true to that position in every instance, because baseball fans deserve nothing less.

"As a part of our drug testing program, the Commissioner's Office and the Players Association agreed to a neutral third party review for instances that are under dispute. While we have always respected that process, Major League Baseball vehemently disagrees with the decision rendered today by arbitrator Shyam Das."
I'm sure we'll be hearing plenty about this for the next few days, especially tomorrow from Braun himself when he reports to Brewers' camp.
The bottom line, though, is Braun backed up what he said when the false positive was announced, "I am completely innocent. This is B.S."
February 22, 2012
Just like in years past, Fox Sports Ohio will be televising 145 games of the Cincinnati Reds during the 2012 season.
Basically, they're not covering those day games when everyone is at work and wouldn't be watching anyway. Oh, unless the Reds do super-well and are picked up by national networks, in which case, FSOhio would have to pick up some other games. And all the games will be broadcast in HD, no matter what DirecTV or other content providers try to say.
Here's the press release.
CINCINNATI, OHIO – FOX Sports Ohio today announced its 145-game Cincinnati Reds television schedule for 2012. The Reds regular season begins with their home opener on Thursday, April 5th at 4pm against the Miami Marlins at Great American Ball Park. The entire schedule is below.

The network will kick off its coverage of the home opener at 3pm with a special hour-long Reds Live pregame show, presented by Ray St. Clair Roofing. Jim Day and Jeff Piecoro will take the field to feature all the Opening Day festivities. FOX Sports Ohio is also happy to partner with Local 12 WKRC-TV to simulcast Reds Opening Day.

FOX Sports Ohio will continue its comprehensive pregame coverage of the Reds all season long with the return of Reds Live featuring co-hosts Day and Piecoro and feature reporter Brian Giesenschlag. The pregame edition of Reds Live, presented by Ray St. Clair Roofing, will once again provide fans with commentary, features, and in-depth pregame coverage of the Reds 30 minutes prior to every game telecast. Immediately following the final out of each game, the post-game edition of Reds Live, presented by Kings Honda, will feature highlights, player interviews and analysis.

Play-by-play announcers Thom Brennaman, Jim Kelch, and George Grande, and color analysts Chris Welsh and Jeff Brantley will return to the booth to call all the action this season.

Behind-the-scenes on all of FOX Sports Ohio's Reds productions are producer Josh Hall; directors Brian Hunterman and Roy Alfers; and Reds Live producer Kent Weaver.
The full schedule is available here.
February 20, 2012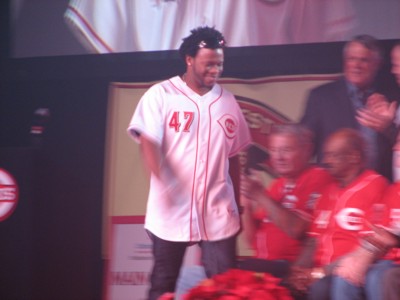 As has become Cincinnati Reds' manager Dusty Baker's custom, today he announced that the 2012 Opening Day starter would be Johnny Cueto. If you'll remember, last year he selected Edinson Volquez before any games were played.
Dusty Baker confirmed what he's said this winter: Johnny Cueto will start Opening Day.
My reaction to hearing this news was to utter a quote from The Wedding Singer. No, it probably wasn't the one you're thinking of.
They'll be divorced in a year!
Yeah, that's the one. Given Cueto's youth and success with the team, though, I kind of doubt he'll flame out like Volquez did and be traded away. Really, the only question concerning Cueto after is his ability to stay healthy. But if he isn't on the disabled list come the start of the season, then he'll already be ahead of last year.