February 20, 2012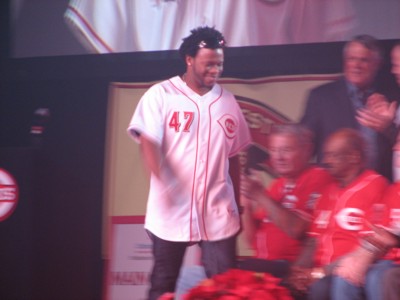 As has become Cincinnati Reds' manager Dusty Baker's custom, today he announced that the 2012 Opening Day starter would be Johnny Cueto. If you'll remember, last year he selected Edinson Volquez before any games were played.
Dusty Baker confirmed what he's said this winter: Johnny Cueto will start Opening Day.
My reaction to hearing this news was to utter a quote from The Wedding Singer. No, it probably wasn't the one you're thinking of.
They'll be divorced in a year!
Yeah, that's the one. Given Cueto's youth and success with the team, though, I kind of doubt he'll flame out like Volquez did and be traded away. Really, the only question concerning Cueto after is his ability to stay healthy. But if he isn't on the disabled list come the start of the season, then he'll already be ahead of last year.